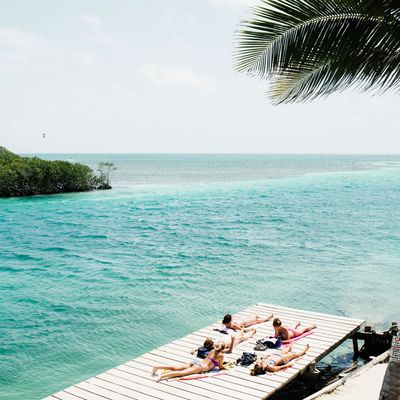 Wish you were here.
Photo: Cultura RM Exclusive/Kate Ballis/Getty Images/Cultura Exclusive
While Winter Storm Stella might not have been the mondo blizzard the Northeast was anticipating (though if you shacked up with a blizzard buddy anyway, more power to you), it's still generally cold, gross, and not spring outside. To get you through these last few weeks of winter, we've rounded up a dozen or so of our favorite travel bloggers — from Mexico to Morocco — who are living, if not their best lives, lives that are likely warmer and sandier than yours.
Ryan, the traveler and blogger behind @PausetheMoment, set off back in 2010 for what he thought would just be a six-month trip. Seven years later, he's still traveling the world and photographing his journey. He's currently based out of Playa del Carmen in Mexico, so follow for sunset shots, azure waters, and even the occasional hot-air balloon.
Curated by journalist Stephanie Steinman, LePostcard is a combination of fave-worthy photos from destinations around the globe. Some come from Steinman's own travels, which seem to include every beach on Earth, and others are from fellow bloggers and photographers. Unlike some travel Instagrams, which are limited by the photographer's ability to only be in one place at a time, @LePostcard offers a great mix.
Sarah Greaves-Gabbadon, a.k.a. Jet Set Sarah, is based out of Miami and a self-proclaimed "Caribbean travel expert." She worked as an editor for the now-defunct Caribbean Travel + Life magazine for over five years, so we're taking her word on pretty good authority. Come for the pictures of cruises and beaches, stay for the travel and shopping tips honed over years of, well, jet-setting.
New York photographer Sam Horine describes himself as a "regular explorer of forgotten, abandoned and under-appreciated places." His photos are usually excellent shots of his urban backyard (he's also worth the follow if you're into New York–architecture porn), but a recent trip to Hawaii means plenty of photos of lush mountains and sandy coastlines. He's back in snowy NYC now, but fortunately, he's still posting plenty of photos from paradise.
Like so many of her travel-blogging peers, Stephanie Be left her 9-to-5 job to see the world. What was supposed to be a single gap year turned into a new career. Forty countries later, she's now based out of New York City, but she's still traveling and Instagramming from all over the globe, including a recent visit to Turkey.
A great Instagram account to follow if you've got some wanderlust and are looking for a little bit of everything. @PassionPassport accepts submissions, so you're sure to find a wide range of activities and map pins — from snorkeling in Tonga to climbing Machu Picchu.
Katie McKnoulty has spent time exploring and photographing remote corners of the map, from Cambodia to Rome. Today, she's spending her days in Ubud, Bali. Which, based on her photos of pristine beaches and vibrant street scenes, looks like where you'll want to take your next vacation.
If you saw Murad Osmann on the street, you probably wouldn't recognize him, but you might recognize his wife, Natalia, if she stood in the couple's signature pose — facing away from the camera with her hand reaching back to Osmann and his camera. It's a pose that would later be copied by blogger after blogger after college kid on spring break. The couple first went viral for their "Follow Me to" pictures back in 2012, and have traveled all over the world since then, taking the same kinds of photos. Most recently, the two were snapping away on the colorful streets of Havana, Cuba.
Jessica Stein's Instagram account is a perfect combination of enviable fashion and even more enviable locations. The Australian blogger has over 2.5 million fans, who follow her to see what the stylish Stein is up to in her native Sydney (as well as in her travels to Greece, Brazil, and Thailand, to name a few), where it's, because of that whole hemisphere thing, still summer.
As a black woman who often travels solo, Oneika Raymond's goal is "to demystify travel for oft-marginalized groups in a disarming manner." She's found herself in over 90 countries, from France to Mexico (and back to France again), taking photos and blogging along the way. These days, Raymond is based in New York City, but don't expect her to stay there for too long before she's off to her next destination.
If you're even a little bit into the travel-blog scene, you know Kiersten Rich. Rich, or the Blonde Abroad as she's better known, left a gig in finance to travel the world and never looked back. She's since visited 50 countries, most recently posting up for a stint in Morocco.
Tiffany Nguyen is a Los Angeles–based travel photographer and dentist. (Sounds like a winning combination if you've ever been on vacation and have gotten a toothache.) While she's not always on the road, her recent warm-weather trips have included Bohol province in the Philippines and the beaches of Belize. Plus, she's got plenty of stunning shots of snowy woodlands and mountains, though those might not be so great for dragging your seasonally affected self through the final weeks of winter.
Take the name of this account — which is curated by four sisters — literally; @FoodInTheAir is just picture after picture of delicious food being held up in front of attractive scenery. Fresh pineapple in Palm Beach, sushi in Curaçao. Good stuff.