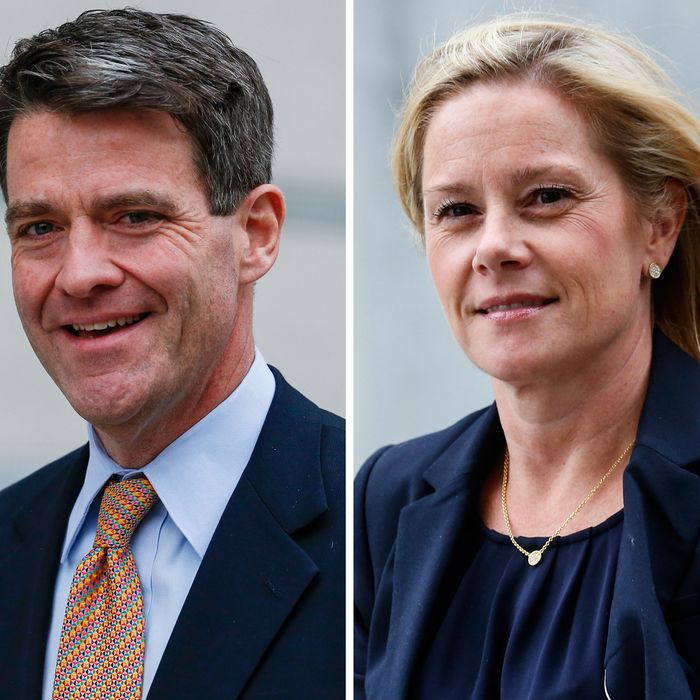 Bill Baroni and Bridget Anne Kelly.
Photo: Kena Betancur/Getty Images
A judge sentenced two former Chris Christie allies to prison terms for their roles in the infamous Bridgegate plot. Baroni, the former top Chris Christie appointee at the Port Authority, will serve two years in prison. Bridget Anne Kelly, the governor's former deputy chief of staff, got a slightly lighter sentence of 18 months in prison. Both must also complete 500 hours of community service.
Baroni and Kelly were found guilty in November of fraud and conspiracy in the 2013 scheme to shut down access lanes to the George Washington Bridge to tie up traffic as political payback to the Democratic mayor of Fort Lee, New Jersey — who did not back Christie in his gubernatorial reelection campaign. The six-week trial hinged on the prosecution's star witness, David Wildstein, Christie's "enforcer" at the Port Authority and the so-called "mastermind" of the revenge plot, who pled guilty in exchange for his testimony. During the trial, Baroni and Kelly — who sent the notorious "time for some traffic problems in Fort Lee" email — argued that they believed the lane closures were part of a legitimate traffic study.

Baroni and Kelly faced up to a maximum of 46 months in prison; federal prosecutors had recommended between 24 and 30 months, according to NJ.com. Attorneys for Baroni and Kelly, respectively, had advocated for leniency, and collected dozens of character letters on behalf of each of the defendants.
But the judge, in doling out sentences to Baroni and Kelly, made it clear that she considered the case an example of an "abuse of power."
Baroni, who was sentenced first, read an apology in court. "I regret, more than anything, that I allowed myself to get caught up in this and fail to help those who need it," he said."It was my job to protect them and I failed."
When it came time for her sentence, Kelly, tearing up, said she never "intended to harm" anyone. But, she added, "I will not allow myself to be the scapegoat in this case and I look forward to the appeal."
Meanwhile, Christie, who was never charged and has denied any knowledge of the plot, is in Washington, D.C., for a listening session on drug addiction. He's being tapped by Trump to head up a White House commission to tackle the opioid crisis. "The judge will do what the judge believes appropriate," Christie said, when asked about his former allies' sentencing day on Today. "It's not my role or anybody else's role, other than the judge in that courtroom, to pass sentence on people that have committed crimes."
This post has been updated throughout.