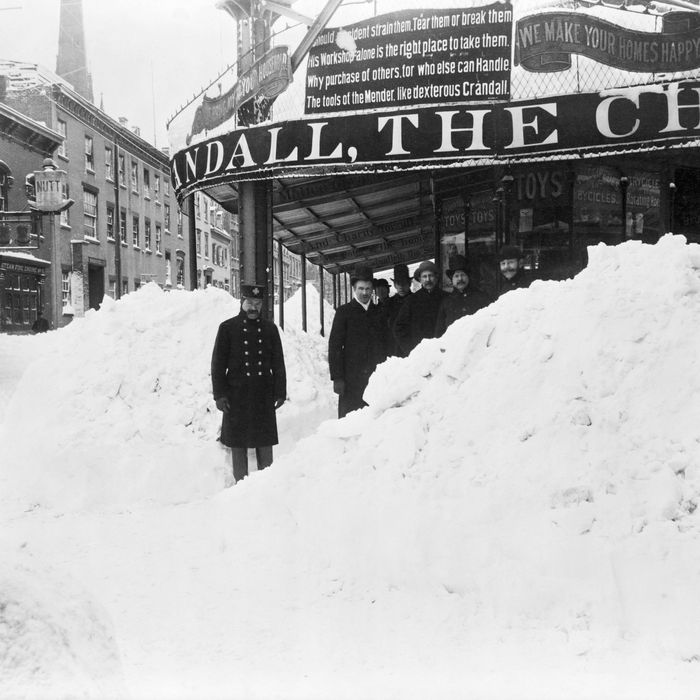 New York, New York, during the blizzard of 1888, with snow piled up in front of a New York store.
Photo: Bettmann Archive/Getty Images
New York City is bracing for a ferocious March blizzard. The Nor'easter will likely dump between 12 to 18 inches of snow in the five boroughs. If those predictions hold, the storm could bust the month's one-day snowfall record of 16.5 inches, set more than a century ago, in March 1888. Mayor Bill de Blasio has already gifted public-school students a snow day, and the run on local grocery stores is in full swing. The MTA just announced it will shut down above-ground subway service at 4 a.m. To get an expert's read on this blizzard, Daily Intelligencer called up New York Metro Weather meteorologist John Homenuk to explain why winter is coming back.
Let's start with a key data point: How much snow are we going to get in New York?
I would expect at least a foot. The official forecast is 15 to 18 [inches], with the potential for more. It's not going to be something that builds up gradually — it's going to come in pretty intense tomorrow morning, starting a little after midnight. If anyone is trying to commute tomorrow, it's going to be a disaster. I'd recommend not doing that. There's going to be some really strong winds, the potential for gusts up to 45 miles per hour. Whatever you think that the definition of a blizzard is in your head, that's what tomorrow is going to be.
Is anywhere on the East Coast going to be spared?
Not really. From Washington and Philly up into northern New Jersey, there will be significant snowfall everywhere — likewise up into Boston and almost all of southern New England.
Clearly this is an unusual storm system. What's going on?
You have one disturbance which is going to be over the Mississippi Valley, and another one that's coming down from the Great Lakes, and they're going to interact with each other. The initial disturbance over the Mississippi Valley slides east toward the mid-Atlantic, and the second one from the Great Lakes kind of swings down and scoops it up. That creates a very powerful storm off the mid-Atlantic coast.
What's behind the recent spell of bitter cold in New York?
We knew this was coming when forecast models started to show what we call high-latitude blocking. That is, a ridge of high pressure forms in the upper latitudes — up near Greenland, the Pole, northern Canada — and all the cold air that's normally bottled up in those high latitudes gets dislodged and moves further south. So you have all the ingredients: You have the cold air to the north, and you have the block keeping the cold air there. It's slowing everything down to allow this storm to form.
How rare is it for this kind of a big storm in March?
Significant snow is pretty common in March. The record was set by a March storm in 1888. If we get 15, 18 inches it would be a very memorable storm for March — and anything above that would be the number one.
It sounds like it will take a while to dig out, and based on the forecast, it doesn't look like it's going to melt anytime soon.
It definitely looks like temperatures will be below normal for the next several days, at least. The blocking is beginning to break down a bit, but the cold air will hang around a while before things start to moderate.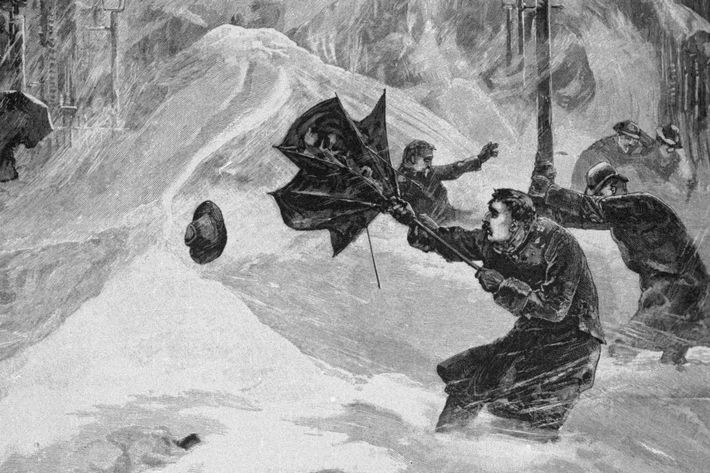 Is there any more snow on the horizon?
Nothing like this. This is the one that we've been watching. This could be the big one of the year.
And when is it going to feel like spring again?
I would give it a week, then we can start talking about spring weather.