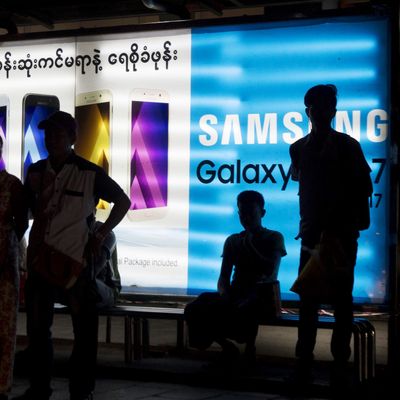 Pedestrians are silhouetted as they stand in front of an illuminated Samsung Electronics Company advertisement.
Photo: Brent Lewin/Bloomberg via Getty Images
Tomorrow may be the most important day in the history of Samsung's phone division. It will take the stage in NYC to debut the Samsung Galaxy S8 and the Galaxy S8 Plus. This will make it the first time Samsung's smartphones have been in the spotlight since the Samsung Galaxy Note 7 began exploding with the regularity of a string of Black Cats — and the company lost not only a chance to own the premium phablet market but also a chance to finally show it could be a true contender to Apple.
The company has suffered through a bitter winter as well. Samsung heir Jay Y. Lee is currently standing trial for bribery, caught up in a bizarre scandal involving the former South Korean president and a cult leader. But that news barely registered in the American media compared to the constant litany of Note 7 explosions.
So, six months later, Samsung is back and prepared to take the stage at Samsung Unpacked, scheduled for tomorrow at 10 a.m. ET at the Lincoln Center here in NYC. Samsung execs I talked to know it has zero margin for error with the safety of its new phones. If even one Samsung Galaxy S8 catches fire on a consumer's nightstand, the company's phone division will be in dire, dire trouble. To that end, Samsung has instituted an "eight-point battery testing procedure," designed to catch battery errors, both from within the company and from third-party suppliers (which Samsung says was responsible for a fair amount of the Note 7 meltdowns).
But it'll be weeks, maybe months, before we know whether its new safety standards measure up. What will be on full display tomorrow are two phones: the Samsung Galaxy S8 and the Galaxy S8 Plus. The slightly smaller S8 has a 5.8-inch screen, while the S8 Plus has a 6.2-inch screen, both OLED, meaning both phones should have an incredibly bright and vibrant picture. The iPhone 7 Plus, for comparison, has a 5.5-inch LCD screen, which simply does not provide the same picture quality. (There's a reason Apple is buying up OLED screens like mad.)
If leaks are to be believed, these phones will look amazing — and Samsung has the advantage of getting around six months on the market of being the best premium phone available, until Apple debuts whatever its newest phone will be in October. The chance to own the premium smartphone market, even for a while, has to be enticing.
After all, in 2016, the Galaxy S7 actually outsold the aging iPhone 6s for a period. It was a different time and a different context for Samsung — Apple's rumored iPhone 7 sounded like a dud in the making versus the already-mounting hype behind the iPhone 8. But Samsung doesn't need a smash hit here, or to crush the competition. It simply needs to show it's still a serious player in the premium-smartphone game.
And to do that, it'll focus on two things: screens and services. The Galaxy phones are able to get all that extra screen space because, unlike the phablets of a few years ago, Samsung (along with every other premium manufacturer), is ditching the bezel — essentially every part of the front of the phone that isn't a screen. It allows you to have phones with noticeably larger screens that still feel slimmer and lighter than the competition. And, yes, it does look like the Samsung Galaxy S8 and Samsung Galaxy S8 Plus will come with 3.5-mm headphone jacks.
Unless the leaks I've seen have led me badly astray, the Samsung Galaxy S8 will be the phone to own this spring, period. There is just nothing else on the market with a screen this gorgeous.
But then, there are services. And for that, Samsung will roll out its own answer to Siri, Alexa, Cortana, and Google Assistant: Bixby.
Bixby is supposed to do a lot of things: be a personal assistant, control your smart home, understand your location and schedule to make your life easier. It's fair to say that Bixby faces an uphill battle: While Apple's Siri has lagged technologically as of late, it's still the old man of the group and is rapidly gaining a host of Apple services tied into it. Amazon's Alexa, thanks to becoming a surprise hit, is quickly integrating into more homes, and has become the smart home hub of choice if the Consumer Electronics Show was any indicator. Google Assistant has a massive database of search knowledge to draw on, and better machine-learning divisions to help it understand human speech.
But Samsung thinks it can do something special with Bixby — something that'll separate it from the pack of voice and phone assistants that have rapidly crowded the market. And Samsung choosing to go with Bixby — instead of, say, just porting over Google Assistant — shows that it believes it has something that's more compelling than what other competitors are offering.
Tomorrow's show won't just be all about phones: A big part of Samsung's strategy is pushing into being the center of the connected home — the company makes everything from refrigerators to washing machines — so expect to see more home-appliance and smart-home stuff tomorrow. Samsung seems ready to make its next push into VR, using the beautiful screen of the Galaxy S8 combined with a brand-new motion controller to attempt to take on Google's Daydream.
But for Samsung's phone division, the Galaxy S8 has to truly impress not just the tech press, which are (frankly) a bunch of monkeys who will get amped up about pixel density. Can it win over consumers who may still associate the Samsung brand with pillows bursting into flames? Judging from the early leaks, I'd say yes — people will forgive a lot of a pretty face, and Samsung has put together a very pretty face.
And more importantly, Samsung doesn't really need its smartphones to take off. Even after the Note 7 debacle, Samsung still made nearly $8 billion in profit at the end of the fourth quarter of 2016. It's hard to emphasize just how much of the South Korean economy Samsung controls — and how diversified it is, whether that's making memory chips or OLED screens. If the Galaxy S8 is a success (and if I were legally able to bet on these things, I'd put money on it doing quite well), Samsung will be doing even better than it was. But if the Galaxy S8 should stumble, Samsung the company will carry on — and likely be able to keep its limping smartphone division afloat, at least for a few more financial quarters.