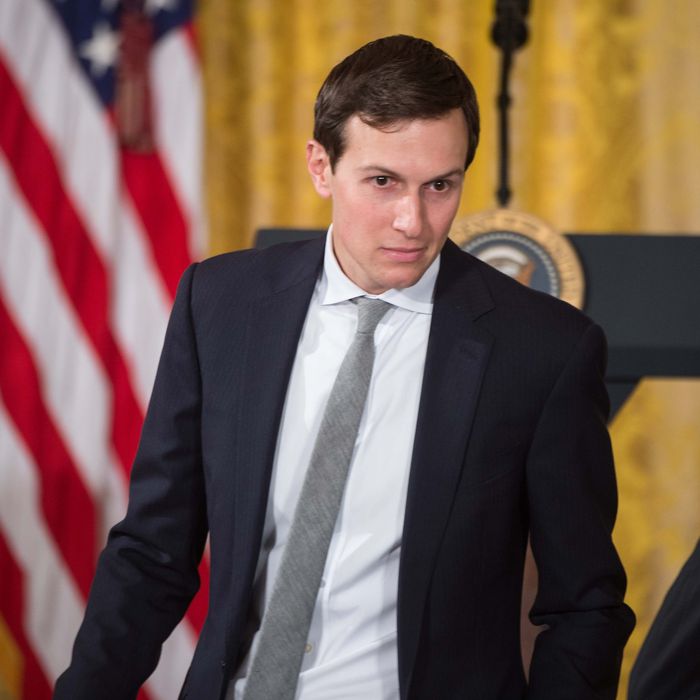 Jared Kushner.
Photo: Nicholas Kamm/AFP/Getty Images
A Beijing-based investment firm with close ties to the Chinese government is giving a "sweetheart deal" to the real-estate company owned by Jared Kushner's family for a stake in the firm's flagship property at 666 Fifth Ave., Bloomberg reported Monday.
The $4 billion deal calls for Kushner Companies, where Trump's son-in-law and adviser was CEO until January, to receive $400 million in cash and have its mortgage in the mixed-use building slashed by about 80 percent.
The transaction's critics tell Bloomberg that the terms of the deal are "unusually favorable." The concern, as explained by Larry Noble of the Campaign Legal Center, is that Anbang Insurance Group is trying to curry favor with Kushner and, by extension, President Trump.
A Kushner Companies spokesman told Bloomberg that there's no worry over conflict of interest because Jared sold his ownership in 666 Fifth Ave. to family members. But as Noble, who calls this a "sweetheart deal," told Bloomberg, "A classic way you influence people is by financially helping their family."
Matthew Sanderson, a D.C. lawyer and Republican, told the Times earlier this year that there's nothing legally improper about the deal but it has the "strong appearance that a foreign entity is using Mr. Kushner's business to try to influence U.S. policy."
The problem, in addition to the apparent attempt to influence Kushner, is the company doing the influencing. Anbang's murky ownership structure has come under scrutiny before and resulted in it losing its $1.57 billion bid to take over a U.S. insurance company last summer. In January, the New York Times reported that Morgan Stanley refused to advise the company because it could not get the proper information to satisfy its "know your client" guidelines.
As this company edges closer to President Trump, it's worth noting that in September 2015, President Obama went out of his way to avoid it. On a trip to New York City he did not stay at Anbang-owned Waldorf Astoria because of concerns that the Chinese government would spy on him.