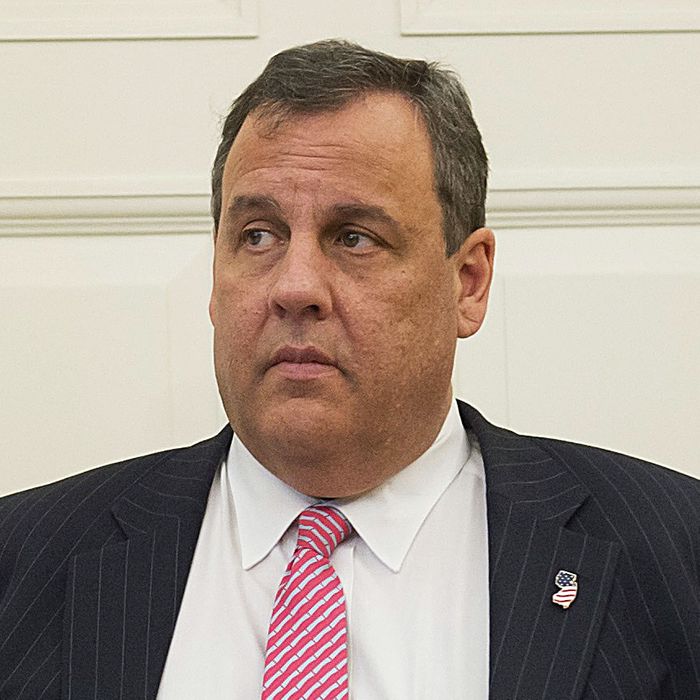 Christie during a White House visit in February.
Photo: Saul Loeb/AFP/Getty Images
President Donald Trump is expected to announce the creation of a drug commission to tackle America's opioid crisis. New Jersey governor Chris Christie, who has made combating the epidemic a policy priority in his last year in office, will head up the initiative as an adviser, and so finally get a (volunteer) gig in the White House.
This new commission will fall under the umbrella of the new catchall White House Office of American Innovation, an initiative to help overhaul the federal bureaucracy with ideas from the business world. Jared Kushner, Trump's top adviser and son-in-law, is heading up the office. Which means he's kind of Christie's boss, something that could potentially be awkward given their history. On Good Morning America Christie shot down such speculation about the existence of tension because he put Kushner's dad in prison — and that Kushner might have boxed out Christie from Trumpworld — by saying "not at all."
"Listen, that stuff is ancient history; it's over 12 years ago," Christie said. "Jared and I have worked incredibly well on this issue and, by the way, on a whole bunch of other issues during the campaign."
According to Politico, the new commission will review current practices and federal funding for drug-addiction prevention and treatment, and release a preliminary recommendation in 90 days and a full report by end of the year. The task force will also rope in four other agencies — the Departments of Justice, Health and Human Services, Defense, and Veterans Affairs.
Christie is at the White House Wednesday for a listening session on opioid and drug addiction, presumably ahead of the official announcement. It's also a convenient time to get out of Jersey: The governor's former associates are set to be sentenced Wednesday in federal court in Newark for their role in the Bridgegate scandal.