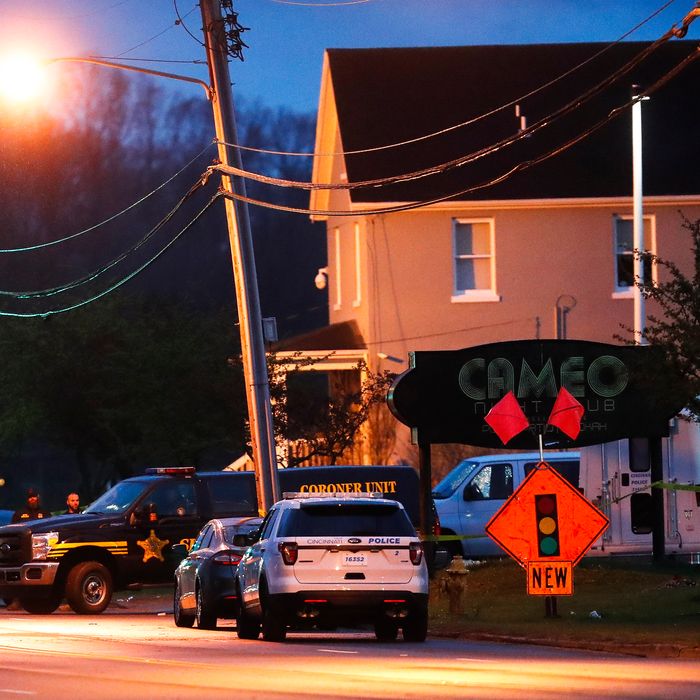 Outside the Cameo on Sunday morning.
Photo: John Minchillo/AP
A gunman opened fire at a packed Cincinnati hip-hop club early Sunday morning, killing one person and injuring 14 others. The gunman, who is believed to have acted alone, is still at large, and though his motive is not yet clear, terrorism is not suspected. WLWT5 News reports that the shooting occurred at the Cameo nightclub in Cincinnati's East End, and that some of the victims have life-threatening injuries, according to authorities. One person is still listed in critical condition, and several victims had to undergo surgery. The incident was one of the worst mass shootings in Cincinnati's history, and the 71st — and largest — mass shooting in America so far this year according to the Gun Violence Archive.
Hundreds of people were inside the club when the shooting started, and Cameo has problems with gun violence in the past, though nothing even close to this scale. Police are still investigating at the "chaotic" crime scene. The Cincinnati Enquirer reports that a witness said a big fight had broken out in the club prior to the shooting, and that clubgoers had been calling for security. Four off-duty police officers were working outside the club at the time. According to City Manager Harry Black, "This conflict is believed to have begun between two specific groups or individuals earlier in the day, escalating and ultimately leading to thus tragedy."
CNN reports Ohio governor John Kasich has offered state assistance for the investigation, and the Bureau of Alcohol, Tobacco, and Firearms is now involved as well.