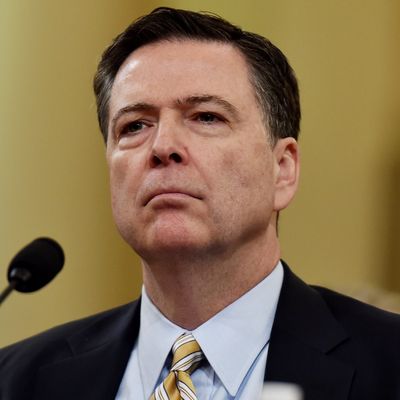 FBI director James Comey.
Photo: Nicholas Kamm/AFP/Getty Images
FBI director James Comey told the House Intelligence Committee Monday that the bureau is investigating potential Russian interference in the 2016 presidential election and whether members of Donald Trump's campaign coordinated with the Russian government.
Comey began by saying he would not typically confirm the "existence of ongoing investigations," but called this an "unusual circumstance."
"I've been authorized by the Department of Justice to confirm that the FBI as part of our counterintelligence mission is investigating the Russian government's efforts to interfere in the 2016 presidential election," he added. "That includes investigating the nature of any links between individuals associated with the Trump campaign and the Russian government, and whether there was any coordination between the campaign and Russia's efforts."
Watch his full statement below.
Comey would say little else on the subject, which at least one pundit thinks is "trouble for the President."
Monday's hearing also addressed President Trump's claims that President Obama had the phones wiretapped at Trump Tower. Both Comey and NSA director Mike Rogers said they know of no evidence to support Trump's claims.
• Further on the subjects of wiretaps, Congressman Adam Schiff, the ranking Democrat on the committee, asked Rogers about the White House claim that Obama enlisted the help of British intelligence arm GCHQ to spy on Trump. Earlier this month, White House Press Secretary Sean Spicer referred to a report from Fox News claiming that Obama went around U.S. intelligence agencies to get dirt on Trump. Rogers denied asking the GCHQ to spy on Trump and denied being asked to do so.
When Schiff asked Rogers if he agreed with the GCHQ, which called Spicer's claim "nonsense and utterly ridiculous," he said, "Yes sir."
• Committee chair Devin Nunes advocated for equal opportunity investigating at one point, asking Comey if he would investigate ties between Russia and the Clinton campaign if evidence surfaced linking the two. It was a question that, if nothing else, proves Nunes follows Trump on Twitter.
• While members of the minority party focused on Russia and alleged wiretapping in their questions to Comey and Rogers, several Republicans wanted to talk about leaks. Representative Trey Gowdy pressed Comey on how the media learned about phone conversations between former national security adviser Michael Flynn and Russian ambassador Sergey Kislyak, which eventually led to Flynn's firing.
After ticking off a list of officials he appears to believe may have had something to do with the leak, Gowdy asked Comey if the FBI was investigating the leak. "I can't say because I don't want to confirm that that was classified information," Comey said.
Later, Gowdy suggested that he's after punishment not just for leakers of classified information, but for the reporters who publish that information.
• In a sign that Comey has learned a lesson from the FBI's investigation of Hillary Clinton's personal email server, he refused a request to provide Congress with regular updates into the investigation of Russia's ties to the Trump campaign. "I don't know how long the work will take," he said. "I can't predict or commit to updates."
• Think the 2016 election marked the beginning and end of Russia's attempts to meddle in the U.S. electoral process? Think again, Comey said. "They'll be back," he warned in response to questions from Florida Republican representative Ileana Ros-Lehtinen. "They'll be back in 2020, they may be back in 2018, and one of the lessons they may draw from this is that they were successful because they introduced chaos and division and discord and sowed doubt about the nature of this amazing country of ours and our democratic process."
• As the hearing pressed on, President Trump weighed in on Twitter. The official @POTUS account shot off several tweets that not-so-subtly suggest it was the Obama administration that leaked classified information about former NSA Mike Flynn.