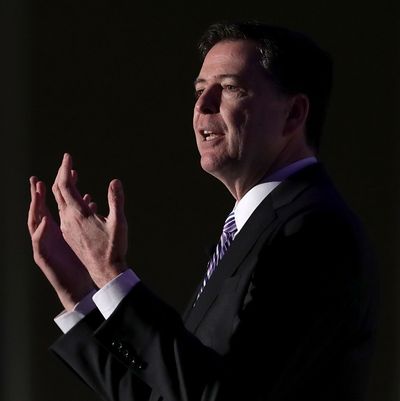 Photo: Chip Somodevilla/Getty Images
Assuring Americans that their deeply partisan, often dysfunctional government is capable of investigating Russia's alleged attempt to sow partisan discord and undermine U.S. institutions was always going to be difficult. House Intelligence Committee Chairman Devin Nunes managed to make the task even harder in recent days when he secretly visited the White House then attempted to vindicate President Trump's unfounded claims that he was wiretapped by his predecessor.
On Wednesday, FBI Director James Comey and the leaders of the Senate Intelligence Committee attempted to boost people's confidence in the government's probes into Russia's election meddling — or at least distance themselves from the mess created by Nunes.
During the election, Comey criticized Hillary Clinton for her private email server and commented on the FBI's investigation numerous times. Yet he only confirmed last week that the agency has been investigating the Trump campaign's possible ties to Russia since July. Comey has been accused of attempting to sway the election himself, or at least displaying terrible judgement. But at the Intelligence and National Security Alliance Leadership dinner on Wednesday, Comey claimed the criticism is proof that the FBI is doing its job.
When asked to comment on the last year, Comey said he's "never been prouder of the FBI," though it's been "painful" to see the public so confused about the agency's activities. He insisted, "We're never on anybody's side, ever," and suggested the misperception stems from the public's inability to understand that the FBI does not view the world through a partisan lens.

Comey recalled his delight when his daughter showed him a tweet that read, "That Comey is such a political hack. I just can't figure out which party." "That is the greatest compliment," he said. "We confuse people because a lot of people can't imagine people who aren't considering sides."
"Now we're not fools," he added. "I know that when I make a hard decision a storm's going to follow, but honestly, I don't care. If I have thought about it carefully, and am doing the right thing, making the right judgement, it doesn't matter what's going to follow, because it's not about that."
For those unable to see how revealing potentially damaging information about Clinton, but not Trump, is proof of the FBI's lack of partisanship, an alternate explanation was offered. Earlier on Wednesday, two sources told Newsweek that Comey wanted to tell the public about the Russia campaign last summer, and asked for permission to pen a New York Times op-ed.
"He had a draft of it or an outline. He held up a piece of paper in a meeting and said, 'I want to go forward, what do people think of this?'" said a source.
This pitch was reportedly made during a meeting in the White House's situation room in June or July, with Secretary of State John Kerry, Attorney General Loretta Lynch, Department of Homeland Security Secretary Jeh Johnson, and National Security Adviser Susan Rice in attendance. "The White House shut it down," the source said. "They did their usual — nothing."
It's unclear who could have leaked this flattering story about Comey, but they aren't the only ones trying to prove that some officials can put country above party. During a press conference on Wednesday, Senate Intelligence Committee Chairman Richard Burr and the committee's ranking Democrat, Mark Warner, emphasized that regardless of what's happening in the House, their Russia investigation is being handled by competent, cooperative adults.
"I have confidence in Richard Burr that we, together with the members of our committee, are going to get to the bottom of this," Warner said.
The Senate Intelligence Committee's Russia probe has always been the most robust, but it hasn't been immune to partisan bickering. Following a report in February that Burr complied with a White House request to knock down stories about the Trump campaign's contacts with Russian operatives, Senate Minority Leader Chuck Schumer declared that the Republican chairman was officially "on notice."
On Wednesday, Burr acknowledged that he voted for Trump and advised his campaign, but he said his role as Intelligence chairman "overrides any personal beliefs that I have or loyalties that I might have."
Burr said he hadn't coordinated with the White House about the scope of the investigation and intended to "test" some Trump appointees who promised to cooperate with the investigation during confirmation hearings, such as CIA Director Mike Pompeo. The senators said there are seven full-time staffers working on the probe, and private witness interviews may begin as early as next week.
"This investigation's scope will go wherever the intelligence leads it," Burr said. "Mark and I work hand in hand on this, and contrary to maybe popular belief, we're partners to see that this is completed and that we've got a product at the end of the day that we can have bipartisanship in supporting."