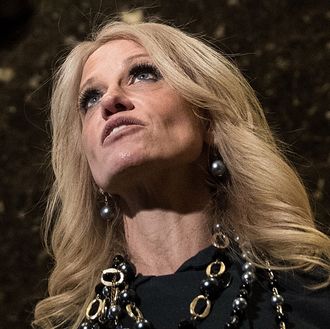 Photo: Drew Angerer/Getty Images
It's now been over a week since President Trump claimed that former president Obama wiretapped Trump Tower during the 2016 campaign. Trump hasn't offered any proof of the right-wing conspiracy theory, though that didn't stop him from demanding that Congress investigate the matter. Representatives of Obama have denied the allegations, and no Republican lawmakers or Trump administration officials have been willing to get behind the president's claims — except for, it seems, senior adviser Kellyanne Conway.
In an interview with the Bergen County Record, Conway suggested that Obama's supposed "surveillance" of Trump may have been something much more than a simple wiretap:
"What I can say is there are many ways to surveil each other," Conway said as the Trump presidency marked its 50th day in office during the weekend. "You can surveil someone through their phones, certainly through their television sets — any number of ways." Conway went on to say that the monitoring could be done with "microwaves that turn into cameras," adding: "We know this is a fact of modern life."
Like her boss, Conway didn't provide anything to corroborate her statements. Meanwhile, the House Intelligence Committee has asked that any evidence of the president's wiretapping assertion be submitted by Monday. That request seems unlikely to be met, but if it is, keep an eye on the microwaves.