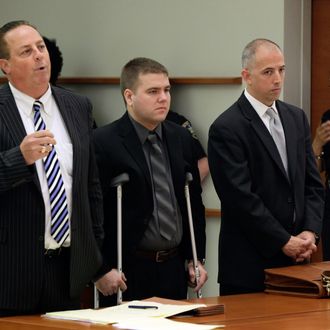 Photo: J.B Nicholas / Splash News/Corbis
Richard Haste, the NYPD officer who fatally shot unarmed black 18-year-old Ramarley Graham, quit his job to avoid an inevitable firing. In 2012, Haste and several other cops followed Graham as he left a Bronx bodega, apparently because they believed the teenager might be carrying a gun. The officers eventually chased Graham into his apartment building and broke down the door of his home, where Haste killed him in front of his grandmother and little brother as he tried to flush some weed down the toilet. Haste was never charged with a crime, but, on Friday, he was found guilty in a NYPD disciplinary hearing. According to the New York Daily News, a judge ruled that Haste "exercised poor tactical judgement leading to the discharge of his firearm" and "acted with intent to cause serious physical injury leading to the death" of Graham.
Aware that the verdict would lead to termination, Haste resigned from the department on Sunday. "He can walk in, say I quit, and walk out the door. It's as simple as that. We can't do anything to him," a police source told the Daily News. He reportedly won't receive a pension. Asked to explain his client's decision, Haste's lawyer said, "He wanted to leave on his own terms, which is to resign instead of being fired."
After hearing the news, Graham's mother Constance Malcolm, who has long criticized the city's handling of her son's death, said that Mayor Bill de Blasio and NYPD chief James O'Neill "should be ashamed of themselves" for "giving deference to Richard Haste in allowing him to resign." "This is not accountability after de Blasio and the NYPD dragged their feet for years, especially while all the other officers involved in the killing of my son continue to be employed by the department, enjoying pay raises every year," she added.