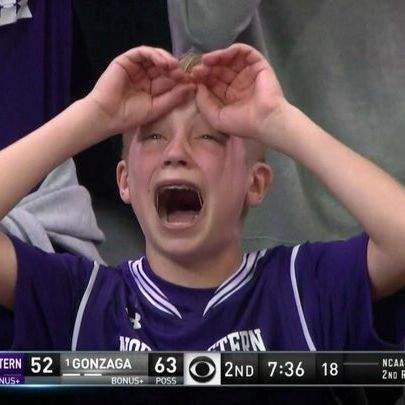 In 2015, Villanova gave us Crying Piccolo Girl. In 2016, we got a weeping saxophonist from the University of Kentucky. And on Saturday, March 18, in the year of our lord Crying Jordan, March Madness 2017 gave us this year's crying meme. During last night's game between Northwestern and Gonzaga, cameras trained in on one young spectator losing his mind in the crowds during the second half after a foul was called on his team.
Yahoo Sports later identified the distraught fan as the son of Northwestern's athletic director, Jim Phillips. The other kids in the clip are also Phillips's sons, though they seem markedly less overwhelmed. Congrats to the saddest son for being the most true to his school. Or his dad's school, as it were.
The Wildcats would later go on to lose the game. Fortunately for this young fan, the cameras didn't find him in those emotional moments after the team was eliminated. Still, the one clip of him was enough to elevate him to meme status.
If you're feeling badly about laughing at an emotional kid, there are still plenty of games left to go in this year's tournament. Chances are good he'll be replaced by a grown adult doing some infinitely more ridiculous before the week is out.