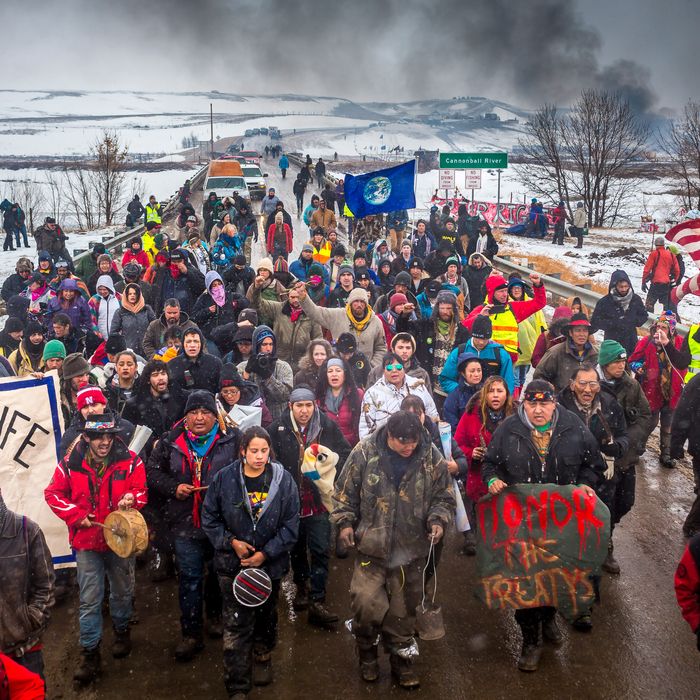 Defiant Dakota Access Pipeline water protectors faced off with various law-enforcement agencies on the day the camp was slated to be raided.
Photo: Michael Nigro/Pacific Press/LightRocket via Getty Images
A federal judge denied another attempt by the Standing Rock and Cheyenne River Sioux tribes to temporarily block the construction of the last section of the Dakota Access Pipeline. It clears the way for its completion, and as the Associated Press reports, the pipeline could go online and start moving oil as early as next week.
Opponents had claimed that the last stretch of pipeline — to be laid under Lake Oahe, off the Missouri river in North Dakota — would violate the tribes' ability to freely practice their religion, which relied on clean water from the sacred Oahe. This was a slightly new legal approach; previously, the tribes had argued that the pipeline would cross sacred tribal lands and threaten their clean water supply, both violations of treaty rights. The Standing Rock Sioux also filed a challenge to review the government's decision-making process, especially for giving the go-ahead to the project without completing a full environmental impact review. (The Obama administration halted the DAPL project so the Army Corps of Engineers could conduct that study; it was nixed with an easement in February. Officials and Energy Transfer Partners, which operates the pipeline, have defended its initial review process.)
The actual legal question of whether the DAPL violates the religious liberty wasn't ruled on by the judge — and the same goes with some of the other legal challenges. That ruling will likely come in April, and the other cases are still unresolved and could wind through the courts. But what's key, for now, is that the pipeline construction won't be halted, and hundreds of thousands of gallons of oil could start moving before these issues are finally settled.
This latest decision comes almost two weeks after police ousted the last stragglers at the protest site near Standing Rock in North Dakota, and about a month after the Army Corps of Engineers issued an easement to permit construction, following President Donald Trump's executive order calling for the completion of DAPL and the Keystone XL pipeline.
And yet this week Dakota Access Pipeline protesters are gathering in Washington, D.C., to continue the fight. Teepees were popping up on the National Mall Tuesday:
The activists are planning a four-day protest, where they will also lobby lawmakers on indigenous rights more broadly. Organizers got a permit for a ceremonial bonfire on the National Mall, and will march Friday from the Army Corps of Engineers office to the White House.