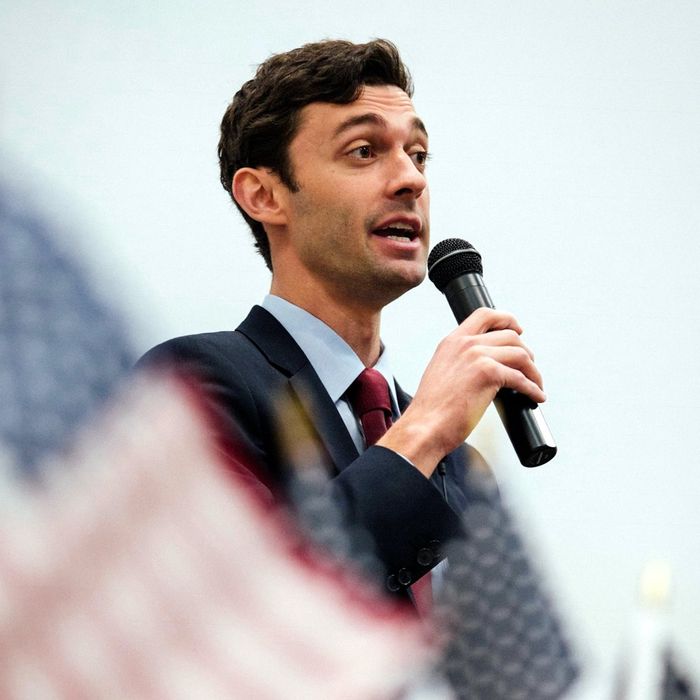 Democrat Jon Ossoff isn't just raising eyebrows in the usually-Republican 6th Congressional District of Georgia, he's looking competitive.
Photo: Dustin Chambers/Jon Ossoff for Congress
The collapse of Republican efforts to repeal and replace Obamacare was bad news for Donald Trump's HHS secretary, Tom Price, who will have to deal with bitter recriminations between his old friends in the House and his new boss in the White House.
But you know what would make Price feel a whole lot worse? Being replaced in the House by a Democrat.
For the first time, Democratic hopes of picking off this seat, once occupied by Senator Johnny Isakson, and before that by Newt Gingrich, are beginning to look like something more than wishful thinking. With the first round of the "jungle primary" fast approaching on April 18, Democratic candidate (and former congressional staffer) Jon Ossoff is no longer just an incredibly well-funded neophyte likely to make a runoff against the survivor of an internecine battle between Republicans. He's now clearly competitive in the runoff as well as the first round.
According to a new survey from Georgia-based Opinion Savvy, Ossoff has the support of 40 percent of likely first-round voters, with Republican front-runner Karen Handel at 20 percent; would-be Trump-clone Bob Gray and State Senator Judson Hill at 10 percent; and former state senator Dan Moody at 8 percent.
More importantly, Opinion Savvy had these numbers for voters screened for likely participation in a near-certain June runoff: Ossoff leading Handel 42/41; Ossoff leading Gray 44/42; and Ossoff tied with Hill at 44 percent.
The 30-year-old Ossoff's strength is largely derived from the reported $3 million he has raised, much of it from national online fundraising, and from his success in consolidating his party's support while the Republican candidates bicker and split the GOP vote. The threat of a Democratic upset in the 6th is strong enough that Paul Ryan's leadership PAC has now committed more than $2 million to attack ads on Ossoff (one with footage of him in college dressed up like Hans Solo; another tying him to Nancy Pelosi, not a beloved figure in the 6th).
Ryan, in fact, could be the one national Republican who would be humiliated by a loss in Georgia nearly as much as Price. Neither of them is having much fun at present.