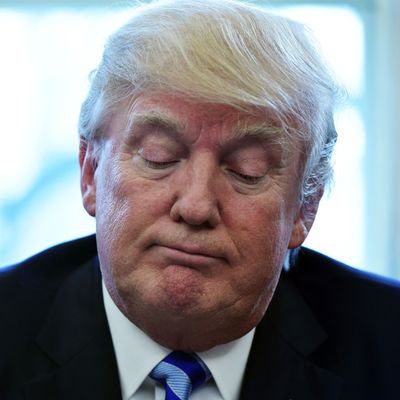 Trump taking a taste of his own medicine.
Photo: Mandel Ngan/AFP/Getty Images
Friday afternoon's collapse of Trumpcare was more than just a crushing failure for President Trump, Paul Ryan, and the whole of the GOP; it was a victory for Democrats — truly a rare bird in Washington, D.C., these days.
As news broke Friday afternoon that the House wouldn't even hold a vote on the disastrous American Health Care Act bill, Democrats took a moment to celebrate with some decently crafted Twitter owns directed squarely at Trump. Many of them snarked on the president's inability to cut a deal for the bill to pass, a seemingly ironic outcome given the title of his best-selling, ghost-written book, The Art of the Deal.
Others opted for more general shit-talking — the kind of stuff that would be unremarkable coming from anyone else on Twitter, but is noteworthy coming from the snooze-inducing accounts of congresspeople.
And lastly, there was one congressman who saw this opportunity and didn't let it go to waste. Here is New Jersey's Donald Payne Jr., who printed out a piece of paper with "TrumpCare" on it, had someone take his picture dropping it in the trash, and then tweeted that picture. Yes, he should be recycling it, but we'll cut him a break for going all out.