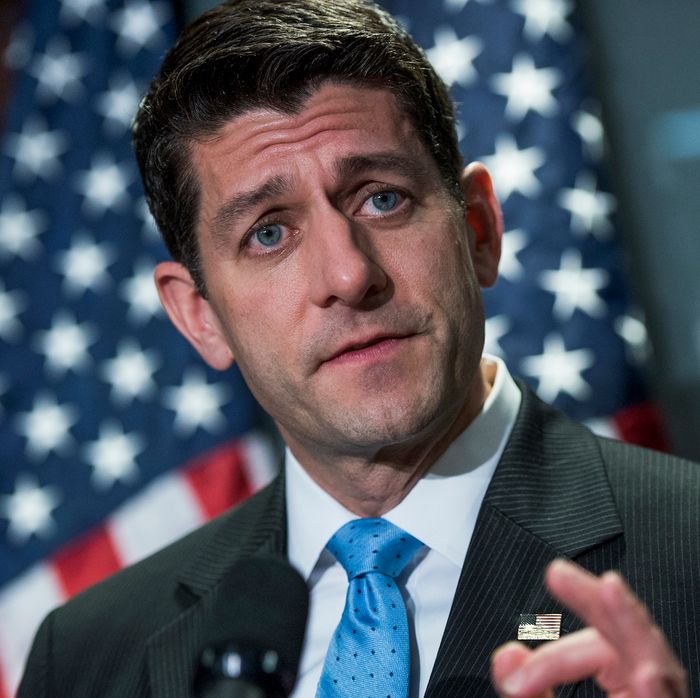 Paul Ryan.
Photo: Tom Williams/CQ-Roll Call,Inc.
House Republican leaders unveiled changes to the American Health Care Act on Monday night that are meant to secure the bill's passage on Thursday, but several conservatives are adamant that they still don't have the votes.
As Vox notes, the manager's amendment does not even attempt to fix the core problems with the widely unpopular legislation.
The changes intended to win over the far right include repealing Obamacare's tax increases one year earlier, allowing states to add work requirements to Medicaid, and letting states take Medicaid funding as a block grant rather than per capita funding. States that haven't already accepted Obamacare's Medicaid expansion would not be allowed to do so.
In a concession to anti-abortion groups, people would not be allowed to roll unused tax-credit money into health savings accounts. The groups claimed that as originally written, AHCA could have allowed taxpayer money to fund abortions.
To woo moderates and centrists, another $85 billion is provided to help Americans between the ages of 50 and 64, who would be hit the hardest under the previous version of the bill. The manager's amendment accomplishes that by allowing people to deduct more health-care expenses from their income tax, but the Senate is supposed to change that into an increase in tax credits for older people buying insurance in the individual marketplace.
There's also a provision just for upstate New York Republicans that shifts Medicaid costs from New York's counties to the state government. As the Huffington Post notes, Republicans complained about a similar provision in the Affordable Care Act, known as the Cornhusker Kickback, that was included to win a key vote from a Nebraska senator.
While it appears these changes were carefully calculated to secure the 216 GOP votes needed to pass the bill in the House, on Monday night several far-right conservatives said it still won't pass. The roughly 40-member House Freedom Caucus announced on Monday that it isn't voting as a bloc, which is welcome news to GOP leaders, who can only afford to lose 21 House Republican votes.
However, following a meeting of the Freedom Caucus several hours later, Representative Mark Meadows, who chairs the group, said that more than 21 members remain opposed to the bill. "Based on what I've been told is in the manager's amendment, and what I've been told tonight, I don't know that it moves anybody or makes a compelling case from where their previous positions were," Meadows said.
Other members of the Freedom Caucus pinned the blame on House Speaker Paul Ryan, rather than President Trump. "The White House has been great to work with. The White House is actually open to negotiations. It's the House leadership that's not open to negotiations," said Representative Raul Labrador. "We don't believe that they have 216 votes, in fact we know that they don't have 216 votes. Somebody is telling the White House that the votes are there."
"Nothing's changed," said Ohio Republican representative Jim Jordan, who co-founded the caucus. "We've still got lots of problems with this bill … The president's a good man, and the White House has been great to work with, but opposition is still strong with our group."
Representative Justin Amash tweeted:
President Trump is set to meet with the House Republican Conference on Tuesday. According to the Washington Post, this signals that he and GOP leaders consider the negotiations with large blocs of Republicans complete, and are now trying to persuade individual members.
Having President Trump work on wavering Republicans was always a key part of the GOP's plan to pass AHCA, but publicly at least, his efforts to get the bill passed have seemed rather low-energy. During a rally in Kentucky on Monday night Trump went easy on Senator Rand Paul, one of AHCA's chief opponents, and seemed impatient to get through the health-care vote so he can move on to tax cuts. (It's unclear whether the president knows he could skip Obamacare repeal and move straight to cutting taxes.)
"I happen to like a lot Senator Rand Paul. I do. I do. I like him. Good. He's a good guy. And I look forward to working with him so that we can get this bill passed in some form," Trump said, referring to AHCA. "So that we can pass massive tax reform which we can't do until this happens."