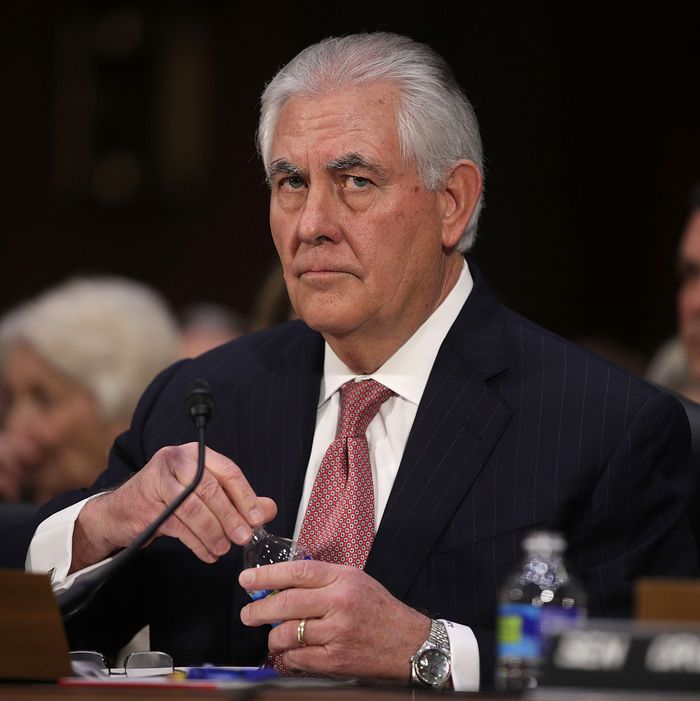 No matter where he goes, he knows where he came from (Exxon).
Photo: Alex Wong/Getty Images
Rex Tillerson has never attempted to stab a childhood friend or fumbled his call for the elimination of the agency he now leads, yet he's emerged as a strong contender for the title of weirdest Trump Cabinet member. The secretary of State goes to great lengths to avoid the press and sometimes uses the alias Wayne Tracker, but the Washington Post reports that his relationship with his co-workers may be even weirder:
Secretary of State Rex Tillerson takes a private elevator to his palatial office on the seventh floor of the State Department building, where sightings of him are rare on the floors below.

On many days, he blocks out several hours on his schedule as "reading time," when he is cloistered in his office poring over the memos he prefers ahead of in-person meetings.

Most of his interactions are with an insular circle of political aides who are new to the State Department. Many career diplomats say they still have not met him, and some have been instructed not to speak to him directly — or even make eye contact.
The claim that Tillerson has adopted J.Lo's alleged method for handling underlings lit up Twitter on Thursday night, though AP diplomatic reporter Matt Lee cast doubts on its veracity.
The Post's point wasn't that Tillerson is a diva, but that in addition to confusing foreign officials and potentially undermining the State Department's power, the secretary's reclusive behavior has "sown mistrust among career employees at State, who swap paranoid stories about Tillerson that often turn out to be untrue." The story about making eye contact with Tillerson is the most galling, but his aide also had to shoot down rumors that he doesn't intend to fill certain key positions in the department and plans to tear up an attractive office next to his own to install cubicles.
False claims about Tillerson have already caused friction with a key U.S. ally. Earlier this month, Tillerson was forced to deny reports that he skipped a dinner with South Korean officials because he was too tired, and his statement suggested that Seoul officials lied about the incident.
If members of the media had access to Tillerson they might be able to refute these wild rumors. But since Tillerson is "not a big media press access person," there are few who can assure the public that the secretary won't fly into a rage if he finds harsh lighting and brown M&Ms in his office.