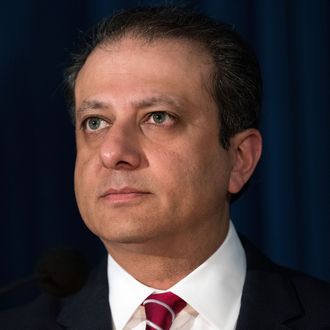 Possibly on the job market.
Photo: Drew Angerer/Getty Images
Attorney General Jeff Sessions asked the remaining 46 U.S. Attorneys who were appointed during Obama's tenure to tender their resignations. This is a pretty standard practice — new presidents usually purge their predecessors' appointees upon taking office, though this wave came somewhat unexpectedly. But now everyone, especially City Hall, Albany, and Wall Street, wants to know: What the heck is going to happen to U.S. Attorney for the Southern District of New York Preet Bharara?
Bharara, who was appointed by Obama in 2009, told reporters in November that then-president-elect Donald Trump had asked him to stay at his post. At the time, Bharara also said that he had filled in his future boss, Sessions, of his decision: "He also asked that I stay on, and so I expect that I will be continuing."
But the Justice Department's latest move does appear to include Bharara. Sources told the New York Times that the high-profile prosecutor received a call from Dana Boente, the acting deputy attorney general, asking him to resign. The Justice Department later confirmed. A spokesman for Bharara declined to comment earlier.
There's always the chance that the White House and Sessions refuse Bharara's resignation. The top prosecutor in the Southern District of New York made his reputation going after white-collar crime on Wall Street, and public corruption in Albany. His office is currently investigating Mayor de Blasio's campaign for possible campaign-finance-related corruption, so that sound you hear might be a sigh coming from City Hall.