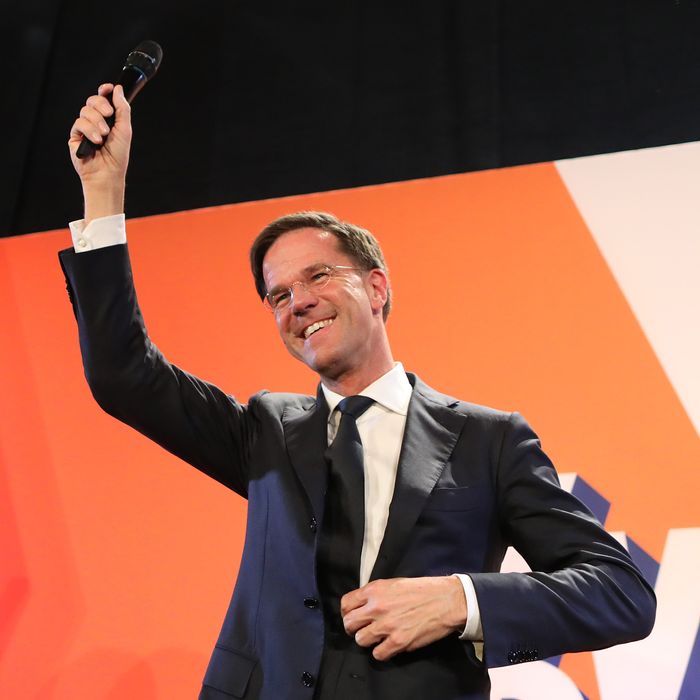 Prime Minister Mark Rutte waves to supporters on election night.
Photo: Bloomberg/Bloomberg via Getty Images
As exit polls suggested, the Dutch election gave foes of Geert Wilders — and right-wing populism in general — reason to cheer. While polls had the anti-Islamic lawmaker in the lead for much of the last year, his Party for Freedom, or PVV, had an underwhelming finish. With 95 percent of the vote counted, PVV is expected to finish second, taking 20 of the 150 seats in parliament. The People's Party for Freedom and Democracy, or VVD, came in first with 33 seats, which means Prime Minister Mark Rutte is likely to secure a third term.
"This night is a night for the Netherlands — after Brexit, after the American elections — where we said, 'Stop it, stop it,' to the wrong kind of populism," Rutte told cheering supporters at his election-night party.
The Dutch election was seen as a test of right-wing populism's hold over Europe. Far-right candidates appear to be gaining support in France and Germany, which will both hold elections later this year. The German governing coalition led by Chancellor Angela Merkel welcomed the result on Twitter:
French foreign minister Jean-Marc Ayrault tweeted, "Congratulations to the Netherlands for halting the advance of the far right."
But it wasn't all bad news for Wilders: His party is still expected to gain 5 seats, up from its current 15. Rutte's party lost a quarter of its seats, and its current coalition partner, the Labour Party (PvdA), dropped from 38 seats to a new low of 9. Several parties also shifted to the right during the election in an attempt to fend off Wilders.
"We are not a party that has lost," Wilders said, according to the Guardian. "We gained seats. That's a result to be proud of … and Rutte is certainly not rid of me yet."
Dutch politics is now more fractured than ever, with 28 parties participating in the election. It may take Rutte months to form a new coalition, and it's likely to be fragile. The Party for Freedom will almost certainly not be a part of the new government, as every other party has vowed not to work with Wilders.