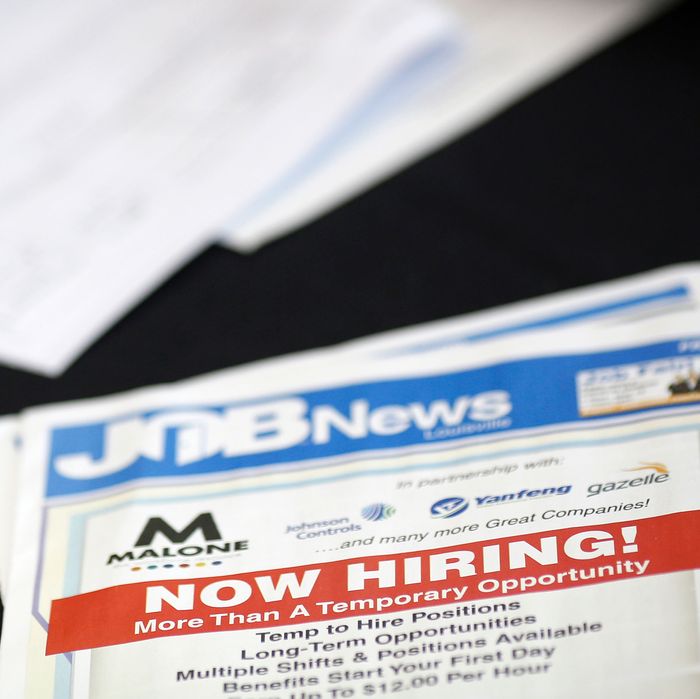 The February jobs report was very much like January's.
Photo: Bloomberg/Bloomberg via Getty Images
The first official jobs report to fall entirely within the Trump presidency was released Friday morning, and it showed continued solid job growth, though nothing new or spectacular.
The report indicated 235,000 net new jobs for February, well above the consensus expectation of 190,000, but also well under the 298,000 unofficial estimate by ADP that excited a lot of Trump fans earlier this week.
The numbers were remarkably consistent with January's, which showed a 227,000 net job increase. The official unemployment rate ticked marginally down, to 4.7 percent, exactly were it was in December. Wage growth, at 6 cents (it was 5 cents in January), remains tepid, but probably strong enough to justify another small interest-rate hike by the Federal Reserve Board later this month.
You can expect the White House to engage in some chest-thumping over these numbers. But the fact remains that aside from the sustained stock-market rally, overall economic gains at the beginning of the Trump era are, so far, modest. Here's how a Reuters report summarized what we know so far:
Data ranging from trade to consumer and business spending suggest the economy slowed further early in the first quarter after growing at a 1.9 percent annualized rate in the final three months of 2016. The Atlanta Fed is forecasting gross domestic product growing at a 1.2 percent rate this quarter.
Trump has pledged to raise GDP growth to 4 percent right away. The February jobs report is pretty good, but no confirmation at all that he will be able to keep his promise.
This post and its headlines have been updated with the correct number of new jobs for February.