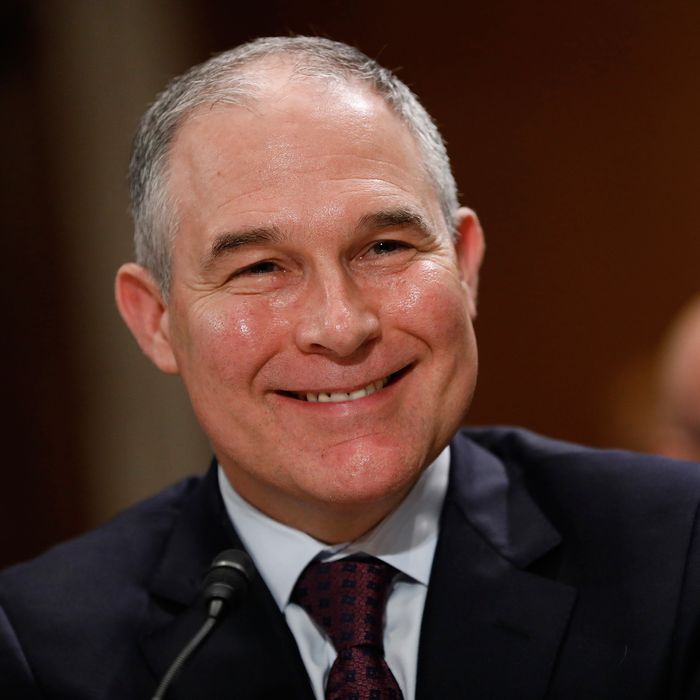 Scott Pruitt enjoys playing make believe.
Photo: Aaron P. Bernstein/Getty Images
EPA head Scott Pruitt has been on the job a few weeks, but the former attorney and politician apparently hasn't found time to brush up on the major points of climate change. On Thursday morning, Pruitt appeared on CNBC, where he was asked if he believes that carbon dioxide is the key contributor to the warming of the planet.
"No, I would not agree that it's a primary contributor to the global warming that we see," he said. "But we don't know that yet. We need to continue the debate and continue the review and the analysis."
This is like denying that smoking doesn't cause cancer, which, incidentally, is something Mike Pence has done. Man's reliance on fossil fuels in the past century has released untold amounts of carbon dioxide into the atmosphere. Over that same time, Earth's average temperature has risen around 2 degrees Fahrenheit, according to NASA and NOAA. And, as Pruitt's own EPA website says, "Carbon dioxide is the primary greenhouse gas that is contributing to recent climate change."
But Pruitt's denial of this obvious point is not a big surprise. As Oklahoma attorney general, he sued the EPA 13 times to fight environmental regulations. Wednesday, the New York Times reported that Pruitt is staffing the EPA with a slew of climate change skeptics. All that's left to do is change the agency's name.