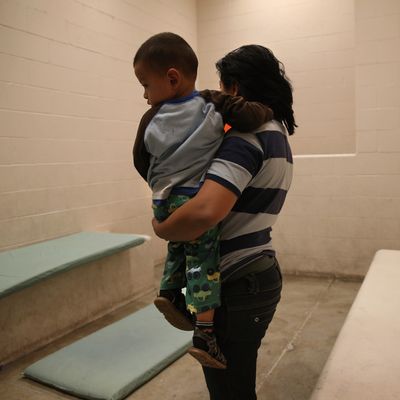 A Honduran mother and her son.
Photo: John Moore/Getty Images
The Department of Homeland Security is considering a proposal that would separate mothers and children if they are caught illegally crossing the border into the United States, Reuters reports.
The proposal would have mothers remain in custody while they wait for an asylum hearing or a date with an immigration judge, while their children would be put into protective custody with the Department of Health and Human Services. Under current policy, families awaiting a court date are generally released and allowed to live with relatives in the U.S. as they wait for their court date, which could take years to arrive.
The point of the proposal, according to the officials who spoke to Reuters, is less about keeping undocumented women off the streets than punishing them for crossing the border with their children. The ultimate goal would be to deter families from illegally entering the U.S., the officials said.
Implementing the proposal would present two obvious and immediate challenges. First, long-term detention of mothers who are now released would require space that may not exist and it would be expensive. More severely, the children who are stripped from those mothers would potentially suffer "lifelong psychological trauma," Marielena Hincapié, of the National Immigration Law Center, told Reuters.