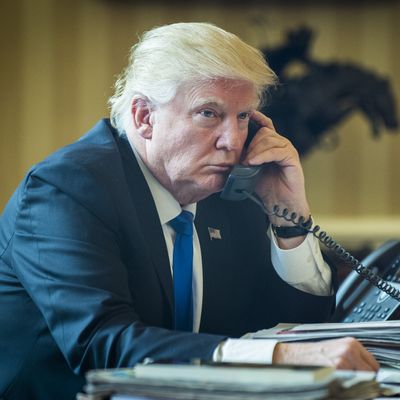 President Trump speaks on the phone with Vladimir Putin on January 28, 2017.
Photo: PETE MAROVICH/Bloomberg via Getty Images
Two days after James Comey finally confirmed that the FBI is investigating whether Trump associates worked with the Russian government to meddle in the U.S. election, CNN reported on Wednesday evening that the bureau has information that suggests people tied to Trump "communicated with suspected Russian operatives to possibly coordinate the release of information damaging to Hillary Clinton's campaign."
U.S. officials said the FBI is reviewing the information, which includes "human intelligence, travel, business and phone records and accounts of in-person meetings." It's reportedly raised the investigators' suspicions, but CNN's sources seem to disagree on what the evidence means:
One law enforcement official said the information in hand suggests "people connected to the campaign were in contact and it appeared they were giving the thumbs up to release information when it was ready." But other U.S. officials who spoke to CNN say it's premature to draw that inference from the information gathered so far since it's largely circumstantial.
Like many reports on the Trump team's alleged Russia ties, the report could indicate that we're headed toward a scandal bigger than Watergate, or it could be totally blown out of proportion.
The New York Times reported last month that phone records and intercepted calls showed Trump associates had repeated contact with top Russian intelligence officials during the campaign. U.S. intelligence officials were said to be looking into whether the Trump campaign was colluding with Russia to damage Clinton's campaign. However, sources said, "So far, they had seen no evidence of such cooperation."
Following Comey's testimony, White House press secretary Sean Spicer said there is still no evidence of that collusion. "Investigating it and having proof of it are two different things," Spicer said.
The latest CNN report suggests that may have changed, but the story relies on anonymous sources, and CNN notes, "Officials cautioned that the information was not conclusive and that the investigation is ongoing."
Representative Adam Schiff, the top Democrat on the House Intelligence Committee, did make a similar suggestion earlier in the day, telling both the Daily Beast and MSNBC that there is "more than circumstantial evidence now" of collusion between Russian officials and the Trump campaign. "I don't want to go into specifics, but I will say that there is evidence that is not circumstantial, and it is very much worthy of investigation," he told MSNBC's Chuck Todd.
Confidence in the current congressional investigation was severely shaken on Wednesday when Representative Devin Nunes, who chairs the House Intelligence Committee, announced that members of the Trump transition team were legally surveilled following the election. It appears Nunes was trying to give Trump cover for his baseless wiretapping claim, but this actually suggests members of the transition team were communicating with foreign agents and/or people involved in a criminal investigation.
Nunes's bizarre decision to personally brief the president on this information before discussing it with members of the committee renewed calls for a congressional select committee or independent commission to probe the Trump-Russia allegations.
"It's simply not possible to do a credible investigation if you take information that's pertinent to the scope of what you're investigating and bring it to the White House instead of bring it to your own committee," said Schiff.
Senator John McCain agreed. "No longer does the Congress have credibility to handle this alone, and I don't say that lightly," he said on MSNBC.