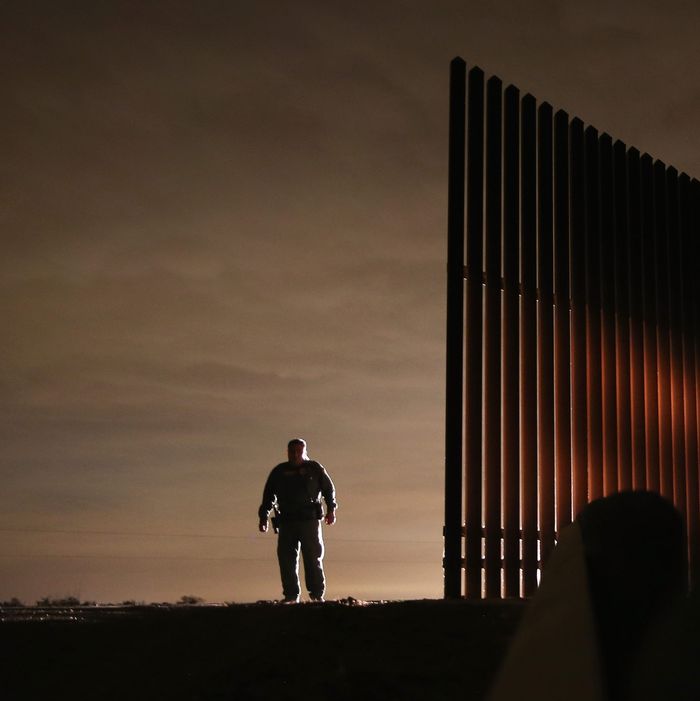 U.S. Border Patrol agent Sal De Leon stands near a section of the U.S.–Mexico border fence while stopping on patrol on April 10, 2013, in La Joya, Texas.
Photo: John Moore/Getty Images
The number of people apprehended at U.S.–Mexico border hit a five-year low last month, says the Department of Homeland Security. Secretary of Homeland Security John Kelly cited President Donald Trump's tougher immigration policies as already working to deter undocumented immigrants from trying to make the trip into the United States.
"The early results show that enforcement matters, deterrence matters, and that comprehensive immigration enforcement can make an impact," Kelly said in a statement.
Kelly characterized the February stats as an "unprecedented decline in traffic." A total of 23,589 people were caught or turned away from the southwest border in February, a decline of nearly 40 percent from January. That number also dropped 36 percent compared to February of 2016, when Customs and Border Protection logged 38,316 apprehensions.
It's too early to draw conclusions about any long-term patterns, especially since they depend on a lot of variables and the numbers to tend to tick up in warmer months — though that's another trend bucked by this February's numbers. Kelly also said in his statement that since November 2016 "coyotes," the intermediaries who help smuggle people across the border, have drastically hiked their fees, from about $3,500 to $8,000. That may have also been in response to anticipated policy changes, but has the practical effect of decreasing the number of people trying to make the journey to the United States. These drops also come before all of Trump's immigration plans have gone into effect, like that great, big billion-dollar border wall that our neighbors are supposed to pay for. Then again, even Senate Majority Leader Mitch McConnell, when asked Thursday if Mexico would cover the cost, admitted, "Uh, no."