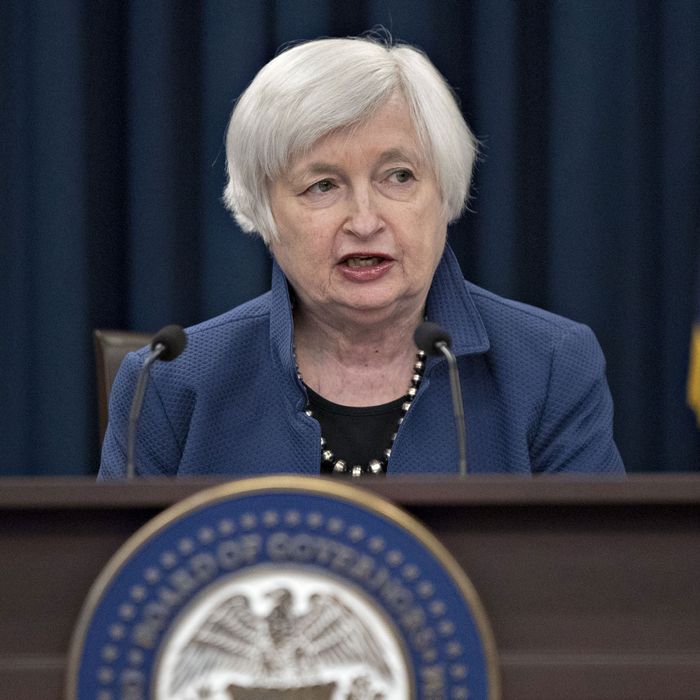 Janet Yellen would have probably preferred that financial journalists just dropped off to sleep during her presser on a rate increase.
Photo: Andrew Harrer/Bloomberg via Getty Images
One of the terrible burdens of being the chair of the Federal Reserve Board is the knowledge that even the slightest indication of future interest-rate-setting intentions can have massive effects on markets near and far. When in addition to that, the newly elected president of the United States has accused you of making politically motivated decisions, you move and speak even more cautiously, if possible.
And so in announcing a universally expected 0.25 percent interest-rate hike today, Janet Yellen was extremely careful to signal there was nothing especially newsworthy going on. The language of the announcement from the Fed's rate-setting Open Market Committee tracked as close to prior statements as possible. The underlying economic forecasts were all but unchanged, as The Wall Street Journal's Joshua Zumbrun quickly noted:
[N]othing has changed, in the Fed's view, for the U.S. economy over the past 3 months.
The rally in stocks? Some new folks taking office in Washington? If you think this has major macroeconomic significance then you're thinking about it differently, apparently, than the Fed.
In her press conference, Yellen blandly acknowledged fiscal developments in Washington could have an effect on the economy — you know, tax and budget cuts, health-care legislation, etc. — but said she'd preferred to wait and see what happens.
Asked if she had held discussions with the president, Yellen became, if possible, more circumspect: "I had a very brief meeting and appreciated that as well."
If Yellen had the power to just fade away like the Cheshire Cat's smile, she might have done so, even as the financial journalists questioning her drifted off to sleep.
Stocks were steady after the rate hike was announced. It's hard to imagine that anything Yellen said changed the situation. Observers expect two more small interest-rate hikes in 2017, and investors have already incorporated that trajectory into their own planning.