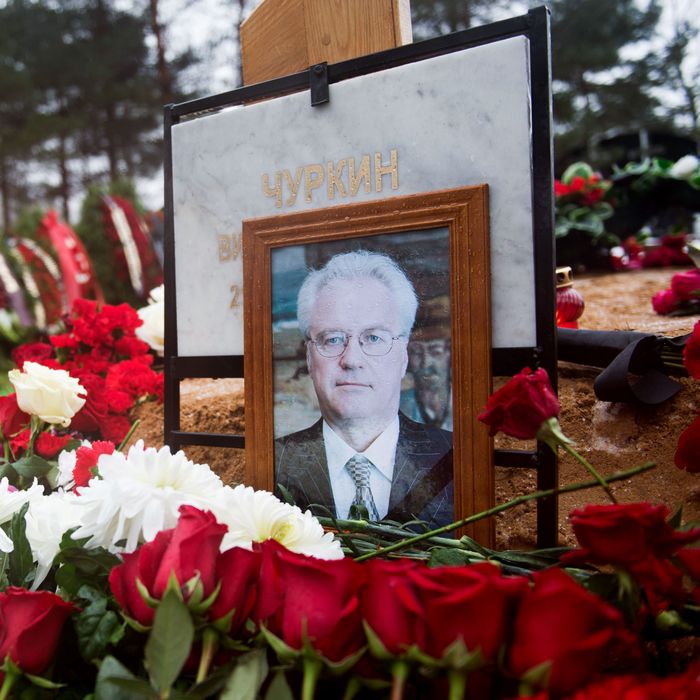 Churkin's grave, in Moscow.
Photo: STR/AFP/Getty Images
The mysterious death of Russian U.N. ambassador Vitaly Churkin will remain a mystery, the New York City medical examiner's office said Friday. The office, which typically makes public the results of autopsies, will keep quiet on Churkin's cause of death after a request from the U.S. State Department.
"Ambassador Churkin's diplomatic immunity survives his death," the medical examiner's spokeswoman Julie Bolcer said in a statement Friday.
Churkin died last month, after collapsing in his office on February 20. An initial autopsy was inconclusive and more tests were reportedly needed, heightening the mystery around his death. But four days after his death, the U.S. State Department asked the city to keep the medical examiner's results private.
In another letter to Mayor Bill de Blasio's international affairs office, dated March 1, James Donovan of the State Department wrote, "The United States has an obligation to take all appropriate steps to protect his dignity."
Given the reputation of Russian president Vladimir Putin, foul play is often suspected when a politically powerful Russian drops dead. But Putin was reportedly fond of Churkin and "deeply hurt" by his death. A day after Churkin died, the Russian president awarded the diplomat a posthumous Medal of Courage for "selflessness, perseverance, and high professionalism."
Churkin is at least the third Russian diplomat to die since the start of the year, joining Andrey Malanin, who died in Greece, and Alexander Kadakin, who died in India.