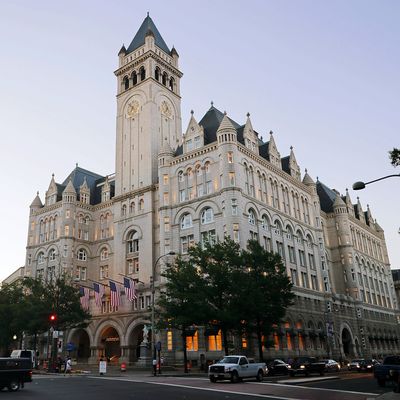 The Trump International Hotel, Washington, D.C.
Photo: Chip Somodevilla/Getty Images
In 2013, the Trump Organization struck a deal with the U.S. government allowing it to turn the Old Post Office Pavilion into the Trump International Hotel Washington, D.C. At the time, a clause in the lease barring "any elected" official from gaining "any benefit" from the agreement attracted little attention. But that's obviously changed.
Democrats and ethics experts have said that Trump has been violating the agreement from the moment he was sworn in. But today, the General Services Administration, which manages property for the government, said despite concerns, the Trump Organization is in "full compliance" with the lease.
GSA contracting officer Kevin M. Terry explained that Trump is not running afoul of the agreement because he moved his stake in the hotel into a revocable trust. "In other words, during his term in office, the president will not receive any distributions from the trust that would have been generated from the hotel," Terry wrote in a letter addressed to Trump's sons.
This decision won't be well received by critics of Trump's many potential conflicts of interest. As they have noted, the revocable trust doesn't fully prevent Trump from benefiting from the hotel; it "simply creates an additional legal step" between him and benefits.
"Formally he is no longer the owner, but functionally he still is," Harvard Law's Robert H. Sitkoff told the Times.
Then there is the conflict-of-interest issue that has nothing to do with the language in the hotel's lease. As president, Trump appoints the head of the GSA, and, every year, the agency renegotiates the rent of the Old Post Office with the Trump Organization, which Trump's sons are running.
That clear conflict had the GSA contracting officer working at a disadvantage. If his boss serves at the pleasure of the president and he hands down a ruling the president doesn't like, how long until he's updating his résumé?