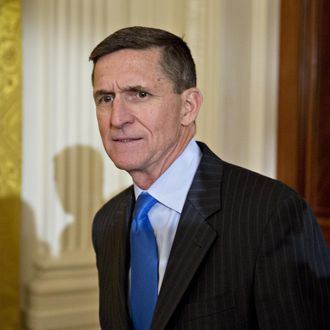 Michael Flynn.
Photo: Andrew Harrer/Bloomberg via Getty Images
Michael Flynn was fired after just 23 days as President Trump's national security adviser so there wasn't time to get into the potential scandal over his business ties to Turkey. This week Flynn filed paperwork with the Justice Department to retroactively register as a foreign agent. Flynn disclosed that his firm was paid $530,000 from August through November for lobbying that "could be construed to have principally benefited the Republic of Turkey." During that time, Flynn was serving as a top national-security adviser to the Trump campaign.
U.S. citizens who lobby on behalf of a foreign entity are required to register with the Justice Department. Failing to do so is a felony, but the DOJ usually works with lobbyists to file the proper disclosures rather than charging them.
Flynn Intel Group Inc. was hired by Inovo BV, a Dutch consulting firm whose owner, Ekim Alptekin, has ties to Turkey's President Recep Tayyip Erdogan. Part of Flynn's work involved hiring researchers to look into Fethullah Gulen, an Islamic cleric who lives in rural Pennsylvania. Erdogan blames Gulen for orchestrating an attempted coup in 2016 and wants the U.S. to extradite him.
The AP reports that during an unrelated meeting with a representative of the House Homeland Security Committee, the Flynn Intel group suggested that Congress hold hearings about Gulen. Flynn also published an op-ed in the Hill on Election Day in which he said Gulen is a "radical cleric" and the U.S. should "not provide him a safe haven." Despite these efforts to change U.S. policy, Gulen still lives in Pennsylvania.
Flynn said in the filings that he decided to write the op-ed on his own, and was not paid by Alptekin or the Turkish government.
Alptekin denied that he hired Flynn to benefit Turkish authorities, and said Flynn was only filing with the Justice Department owing to "political pressure."
"I disagree with the filing," he said. "It would be different if I was working for the government of Turkey, but I am not taking directions from anyone in the government."
Flynn Intel received a final payment of $145,000 on November 14, less than a week after Election Day. The firm was shut down around the same time.