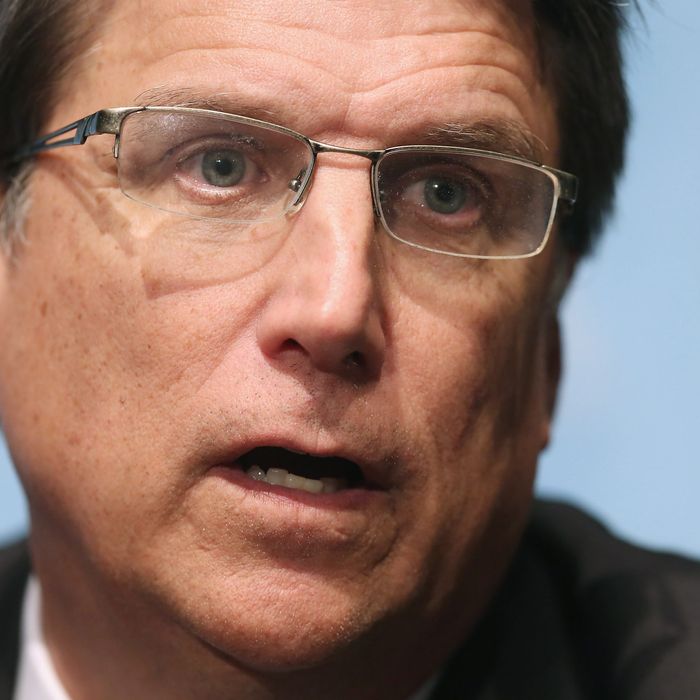 Poor Pat McCrory can't get the kind of job to which he feels entitled.
Photo: Chip Somodevilla/Getty Images
Get out the tiniest of violins for mood music as former North Carolina governor Pat McCrory cries us a river. Having become the only incumbent governor in the country to lose last November (though it took him nearly a month to concede defeat), he's not getting the sort of job offers he expects, and for that he blames the "politically correct thought police" who have somehow created the impression he is a bigot thanks to his sponsorship of legislation making life difficult for transgender individuals who want to use public bathrooms. That law made his state a target of protests and boycotts. After four hard years of loyally doing the will of North Carolina GOP kingmaker Art Pope — who actually called the shots within the McCrory administration for a goodly while as the governor's budget and policy director — and seeking to transform the once proudly progressive state into a conservative ideological fortress, McCrory, once considered a party moderate, probably figured he deserved the kind of lucrative no-heavy-lifting job ex-governors tend to get.
But he obeyed Tar Heel conservatives one time too many with a bill making his state the leader of a national fight for transgender rights, and now McCrory is allegedly paying the price, as the Raleigh News-Observer reports:
Former Gov. Pat McCrory says the backlash against House Bill 2 is making some employers reluctant to hire him but he's currently doing consulting and advisory board work…

McCrory declined to name the companies he's working for. But the former governor said that he's been considered for part-time university teaching positions – he wouldn't say where – but that academic leaders "have shown reluctance because of student protests."

"That's not the way our American system should operate – having people purged due to political thought," he told The N&O.
But according to a recent interview, his real fury is reserved for the large companies whose disdain for North Carolina after the "bathroom bill" (just one of a number of recent anti-LGBT efforts in the state) exerted a price:
Over and over again, McCrory blasted corporations for using their free speech rights to oppose HB2. He believes these companies vilified and victimized him, declaring that they should have stayed neutral and declined to support transgender employees who were targeted by the bill. But, he said proudly, "I'm having the courage to call them out on [their] selective hypocrisy."
It seems as if McCrory thinks his last hope for the kind of reward he deserves could come from Big Government, or more specifically the Executive branch in Washington:
McCrory said he's also "had ongoing discussions with the Trump administration, but at this point in time nothing has come to fruition."
This is how his former political rivals reacted to word of his plight:
The N.C. Democratic Party issued a statement Monday responding to McCrory's job search troubles.
"North Carolina has already lost hundreds of millions of dollars in economic activity and thousands of jobs as a direct result of House Bill 2, but I guess we can start adding Gov. McCrory's career to the total as well," spokesman Mike Gwin said.
The term "hoist by his own petard" comes to mind.