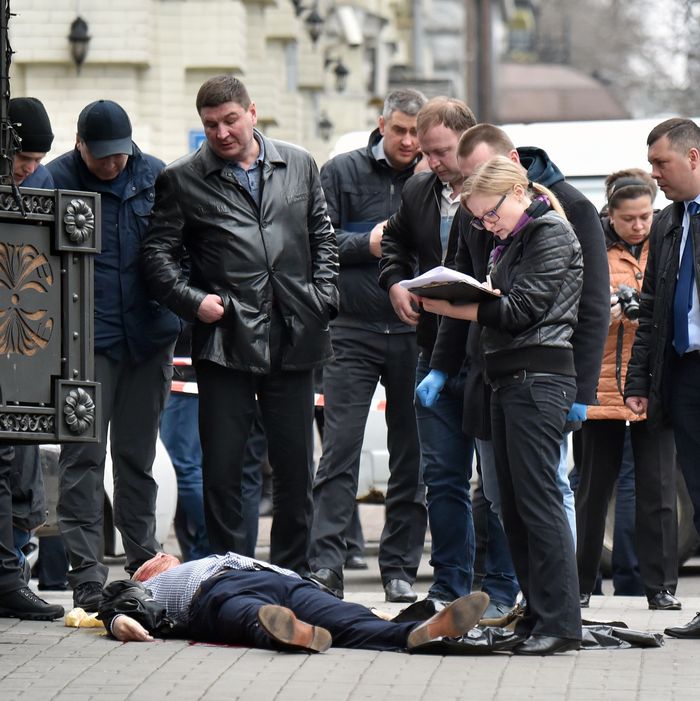 The crime scene.
Photo: Sergei Supinsky/AFP/Getty Images
Denis Voronenkov, a former Russian lawmaker who fled the country last year and has harshly criticized president Vladimir Putin, was gunned down outside of a Kiev hotel Thursday in what Ukraine's president is calling an "act of Russian state terrorism."
A critic of Russia's annexation of Crimea, Voronenkov was helping prosecutors build a treason case against ex-Ukrainian president and Putin ally Viktor Yanukovych, who has lived in exile in Russia since early 2014. Another former Russian parliament member and Putin critic, Ilya Ponomarev, said Voronenkov was on his way to meeting with him when he was killed.
Ukraine's General Prosecutor Yuriy Lutsenko called the shooting a "cynical murder of one of the witnesses involved in the state's case against ex-president Yanukovych." He also referred to it as a "typical show execution of a witness by the Kremlin."
Not long after the killing, the Kremlin dismissed any suggestion that it was involved. "We believe that all speculations about a Russian connection are absurd," Putin spokesman Dmitry Peskov said. "We hope that the killer and those behind the murder will be exposed."