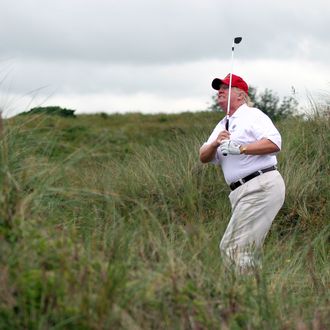 Photo: Ian MacNicol/Getty Images
Late Sunday afternoon, Fox News's Twitter issued a "news alert" informing the public that President Donald Trump was "spending the weekend working at the White House." It was a weird tweet for a couple of reasons: First, the idea that the president of the United States, typically a very busy person, had to keep doing his job over the weekend doesn't exactly seem newsworthy. Second, Trump spent a significant portion of the weekend at his Virginia golf course.
The president's presence at the Trump National Golf Club wasn't a secret. On Saturday, reporters traveling with him said that he arrived at the club at 11:01 a.m. and left at 3:20 p.m., pulling up to the White House about 40 minutes later. Though Trump's people wouldn't say whether he had played golf — reporters were told only that he took some "meetings" — a club member once again blew up the president's spot:
He was at D.C.'s Trump International Hotel for dinner by 9 p.m.
Trump returned to the club at 11:04 a.m. on Sunday, though this time he departed after less than an hour. Reporters were told that he squeezed an impressive three meetings into that time:
Trump used to semi-obsessively complain about the amount of time President Obama spent golfing, but as Fox News knows quite well, things are different now: