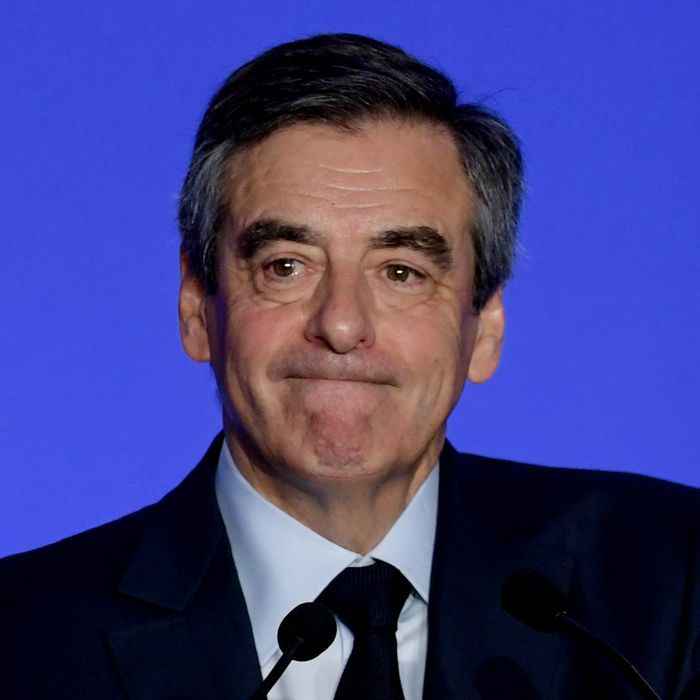 Photo: Christophe Archambault/AFP/Getty Images
François Fillon, the right-wing French Republican candidate, faces embezzlement charges for allegedly putting his family members on the government payroll for jobs they didn't actually do. Fillon does not deny that he gave his wife and children taxpayer-funded jobs as parliamentary aides, but says the work they did was legitimate.
Fillon has vowed to stay in the race, even as he is under formal investigation. At a press conference earlier this month — before formal charges came down — Fillon described the probe as a "political assassination." He added, "It's not just me they are killing, it is also the presidential election itself."
But Fillon, in the wake of the scandal, has slipped from the front-runner position; his flagging candidacy is making it less and less likely that he will make it past the first round of voting in April. Even before this latest development, Fillon trails behind the narrow leader, the centrist independent candidate Emmanuel Macron, and extreme right-wing National Front's Marine Le Pen.
The Guardian explains that this formal investigation means that there's enough evidence to show "probable involvement," but does not necessarily mean Fillon will go to trial. This probe may be the biggest, but it's not the least, of Fillon's troubles. In what may be the most French political scandal, the Republican candidate — who tried to sell himself as the fiscally responsible guy — has also come under fire for getting a gift from an anonymous "generous friend" of some pricey (about 50,000 Euros-worth) tailor-made suits.