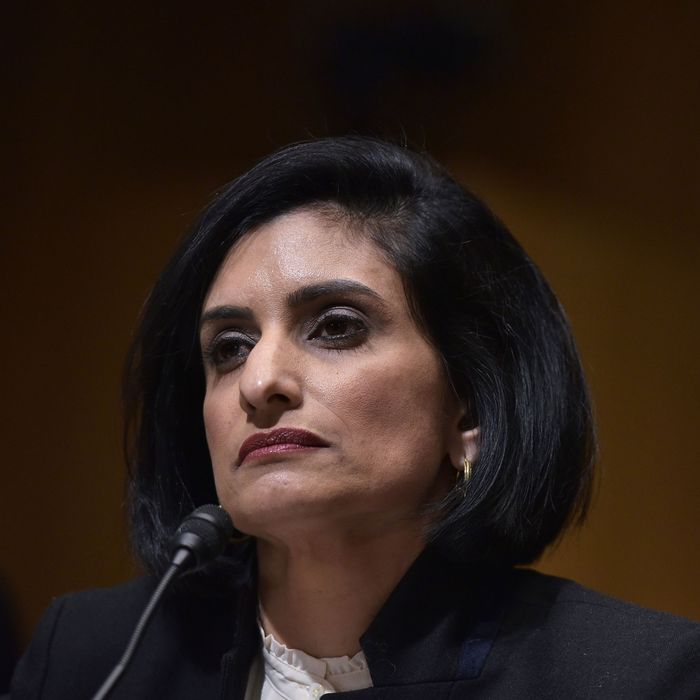 Not enough Republican Judiciary Committee members showed up to confirm Seema Verma for director of CMS.
Photo: Mandel Ngan/AFP/Getty Images
With all the confusion over Republican plans to repeal and replace Obamacare, the last thing the GOP needs is another embarrassing example of poor coordination between the Trump administration and its supposed allies at the other end of Pennsylvania Avenue. Yet that's what it got yesterday, when the Senate Finance Committee's vote to confirm proposed director of the Centers for Medicare and Medicaid Services (CMS), Seema Verma, wound up in a 9–9 tie because too many Republican members were absent. Committee chairman Orrin Hatch is holding a second vote today, and presumably his staff will round up enough pachyderms to clear Verma for confirmation by the full Senate.
The snafu does, however, give opponents of Verma more time to ask questions about the direction she will take at perhaps the most critical sub-agency of the federal government (with the possible exception of the Justice Department's Civil Rights Division). A health-policy consultant mainly know for her role in designing Indiana's program to use expanded Medicaid funds for conservative policy experiments, which brought her into proximity to (now Vice-President) Mike Pence, Verma is drawing heat for that program's "punitive" measures to get tough with low-income Medicaid beneficiaries.
Depending on what if anything ultimately emerges from Congress in the way of an Obamacare repeal-and-replace scheme, Verma could wind up with powers over the health-care system at least as vast as those exercised by her Obama administration predecessors, who approved Indiana's experiment. For the time being, though, the Trump administration needs her in place to deal with intense public scrutiny of its administration of health-care programs, and the more technical questions about proposed Obamacare replacements and what will happen between passage and implementation of legislation.
Maybe the second time will be the charm for Verma in the Judiciary Committee.
Update: Verma was, as predicted, approved by the Judiciary Committee on the second try, by a 13-12 vote.