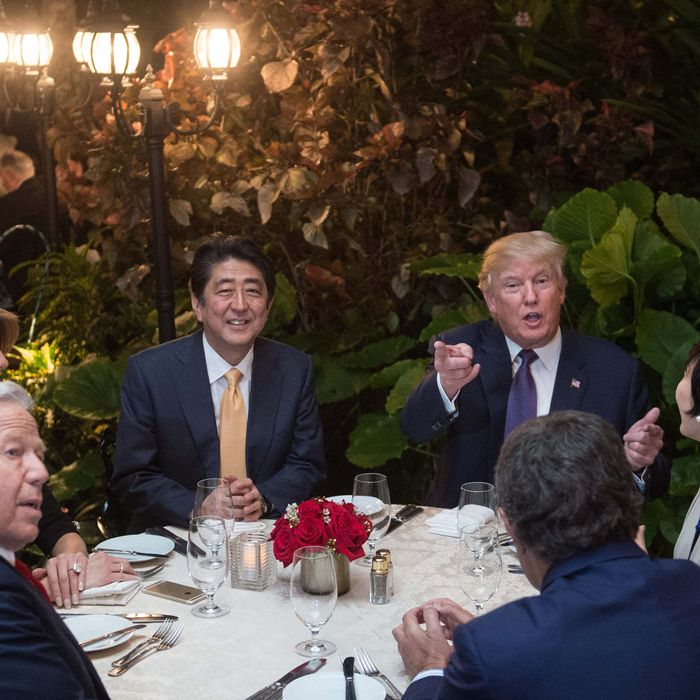 Trump and Japanese prime minister Shinzo Abe at Mar-a-Lago.
Photo: Nicholas Kamm/AFP/Getty Images
The Government Accountability Office will reportedly review the expenses and security protocols associated with President Donald Trump's frequent trips to his private club Mar-a-Lago, a.k.a. the "Winter White House." The government watchdog agreed to the assessment at the urging of Democrats on Capitol Hill last month, reports Reuters.
Trump's trips to his Palm Beach, Florida, country club came under scrutiny for having security protocols that seem to be a bit lax, as evidenced by a guy who Instagrammed himself with the official carrying the "nuclear football" and reports, denied by the White House, that Trump and Prime Minister Shinzo Abe might have discussed classified information in the middle of a the Mar-a-Lago dining room. The GAO will evaluate such handling of classified information and secure communications, and assess the screening for Mar-a-Lago guests.
The GAO is also reportedly going to look into the price tag of the Mar-a-Lago visits. According to the Washington Post, that will include whether the expenses are "fair and reasonable" and whether the U.S. Treasury has received any payments from Mar-a-Lago and any other Trump Organization–owned and operated hotels or properties. Trump's lawyers had said, prior to the president's inauguration, that the company would donate any profits from foreign entities to the U.S. Treasury to avoid conflicts of interest. Trump Organization representatives have said the first payment would not arrive in the government coffers until 2018.
The GAO investigation won't start for a "few months," says Reuters, so that will leave the president time to take many more jaunts down to Mar-a-Lago. The Post calculates that Trump has spent at least part of 17 days at the Florida club since taking office — and nearly one in three days at some sort of Trump property. Estimates have put the cost to taxpayers of each Mar-a-Lago trip at about $3 million dollars.

How much time Trump spends golfing is still up for debate. All this from the candidate who promised he'd just want to stay in the White House and "work my ass off."