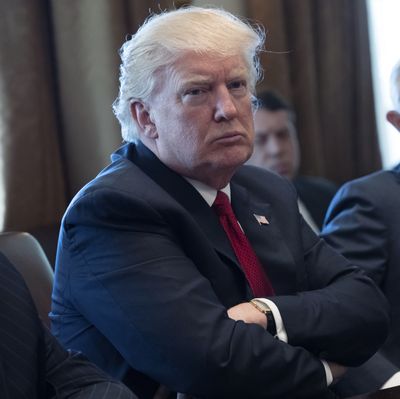 See you in court!
Photo: SHAWN THEW/Bloomberg via Getty Images
Immediately after a federal judge in Hawaii put a freeze on the Trump administration's revised travel ban earlier this month, the president complained at a rally that it was merely a "watered-down version" of the original order, which the courts deemed discriminatory. As predicted, this did not help President Trump's case.

During a hearing in Honolulu on Wednesday, federal lawyers asked U.S. District Court Judge Derrick Watson to scale back his ruling so it would only apply to the issuance of visas to people from six Muslim-majority nations. Instead, Watson extended his block on the travel ban by changing his temporary restraining order into a preliminary injunction.
Watson cited Trump's remark in his ruling, saying that while Trump's comments about wanting to ban Muslims shouldn't prevent him from restricting travel and immigration forever, he saw little evidence that anything had changed since the original order was struck down.
"The Court recognizes that it is not the case that the Administration's past conduct must forever taint any effort by it to address the security concerns of the nation," Watson wrote. "Based upon the preliminary record available, however, one cannot conclude that the actions taken during the interval between [the] revoked Executive Order .. and the new Executive Order represent 'genuine changes in constitutionally significant conditions.'"
The Justice Department is expected to appeal the decision to the 9th Circuit Court of Appeals, which is the same court that upheld a Seattle judge's order blocking the original executive order. The Trump administration already appealed a Maryland judge's narrower restriction on the order's ban on travel from the six countries. That appeal is set to be heard on May 8, and the travel ban seems to be headed for the Supreme Court.