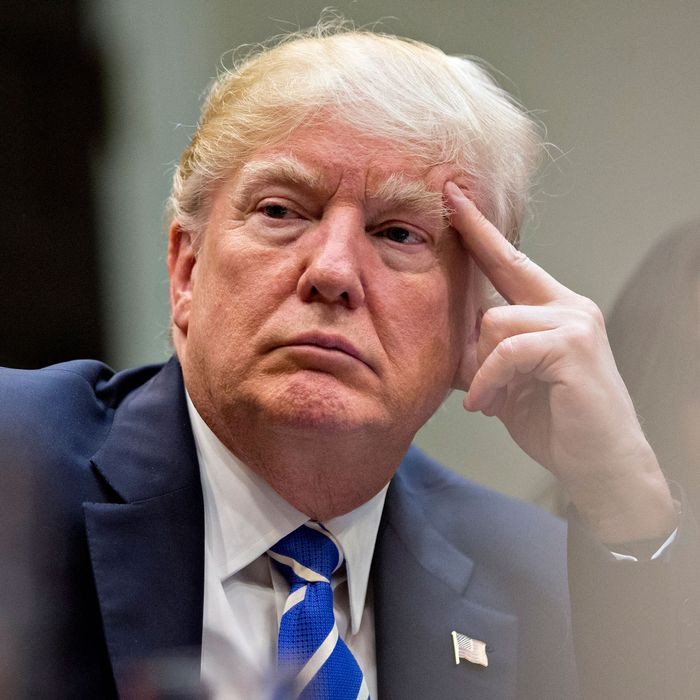 Trump not as "Teflon" as some believe, and that's bad news for the GOP.
Photo: Andrew Harrer - Pool/Getty Images
There was a lot of anecdotal chatter over the weekend about Donald Trump's most intense fans not blaming him for the health-care debacle in the House last week. That may or may not be true, but there are some initial signs the mess is depressing his already-weak job-approval ratings.
The two public pollsters with approval-rating numbers for last week both show downward movement. Rasmussen had Trump at 50/50 on March 21. Today he's at 45/54, which is actually a small improvement over Friday's 44/56. Meanwhile Gallup's three-day rolling average of job-approval numbers has Trump dipping to 36/57, down from 41/54 last Thursday. The 36 percent job approval is the president's lowest rating since his inauguration.
It is probably safe to say that anything less than 40 percent presidential job approval once midterms roll around is going to be a big problem for the president's party; the three times it has happened (Truman '46 and '50 and Bush '06) the White House party lost an average of 38 House seats.
Trump's ratings can obviously bounce back before voters go to the polls in 2018. But the idea that real-life political setbacks don't affect him is likely an "alternative fact."