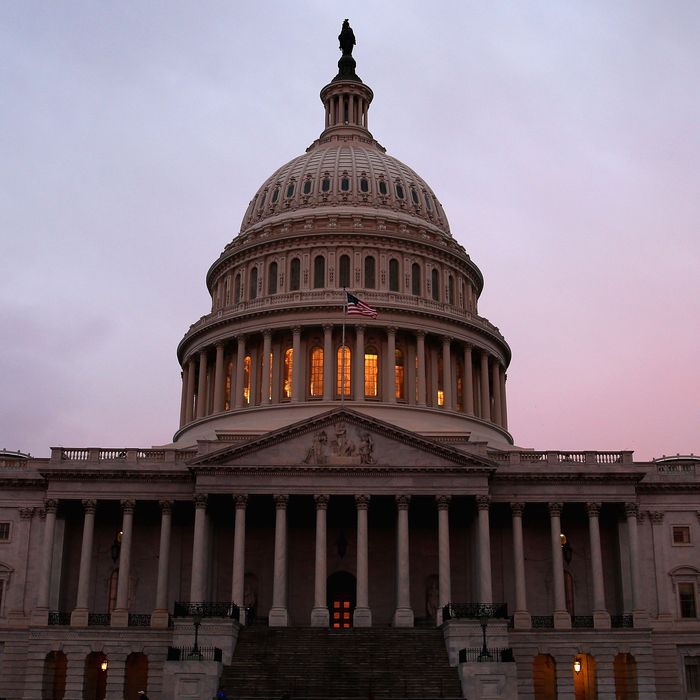 As the sun rose over the Capitol, one House committee had just finished work while another was still in session.
Photo: Mark Wilson/Getty Images
Even as opposition to the American Health Care Act snowballed among advocacy groups from every persuasion, health-care stakeholders, and itchy Republican pols, two House Committees held marathon all-night meetings to get the legislation to the floor before further calamity strikes.
To call these sessions "mark-ups," as they are officially known, is misleading. In both the Ways and Means Committee (with jurisdiction over the tax provisions of AHCA) and the Energy and Commerce Committee (which is handling the Medicaid provisions), Republicans are whipping the bill through the proceedings without accepting any amendments, though everyone knows the bill as introduced is flawed and will never get through Congress in its original form — if at all. For their part, Democrats on these committees are offering blizzards of amendments, some aimed at getting their GOP colleague on record as opposing improvements in AHCA, and others clearly designed to bring the proceedings quite literally into the light of day.
The Ways and Means Committee managed to complete its work on AHCA before sunrise, at 4:30 a.m. ET, with a 23–16 party-line vote reporting its part of the bill to the full House. The Energy and Commerce Committee wrapped up around lunchtime, after a session that lasted 27 hours. In the latter committee, there was a brief hint of GOP rebellion as the panel's vice chairman, Rep. Joe Barton, offered an amendment accelerating the cancellation of Obamacare's Medicaid expansion from 2020 until the end of this year. He later withdrew it.
What makes the whole exercise excruciating for the Republicans involved is that they are rubber-stamping a bill that could be rejected by their House colleagues, by the Senate, or by their Republican president. It's the epitome of what congressional observers call "walking the plank."
It is possible that these brave souls think they can disclaim their own work if the Congressional Budget Office comes in with a "scoring" of the AHCA's impact on the budget and on health coverage that makes the legislation a plain abomination from every point of view. That would be another reason for the hastiness and stealth surrounding these committee actions. As it stands today, Paul Ryan owes his Ways and Means and Energy and Commerce members a debt of thanks, and, eventually, a good night's sleep.