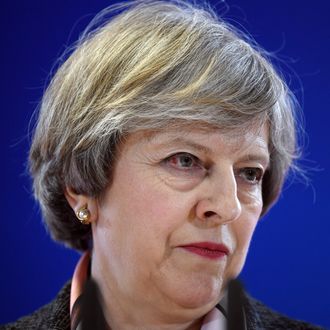 British PM Theresa May.
Photo: Carl Court/Getty Images
The United Kingdom has put the European Union on notice: A letter is arriving March 29, which will trigger Article 50, the first step toward negotiating the U.K.'s formal exit from the European bloc.
European Council president Donald Tusk said that within 48 hours of receiving May's letter he would present draft Brexit guidelines to the 27 member-states, which will lay the groundwork for the negotiations.
The announcement is in keeping with the British government's announced timeline, promising to invoke Article 50 by the end of the month. This, however, is the easy part — next comes months and months of negotiations as the European member-states and the U.K. settle this potentially messy divorce. "We are on the threshold of the most important negotiation for this country for a generation," Brexit Secretary — yes, really — David Davis said in a statement. "The government is clear in its aims: a deal that works for every nation and region of the UK and indeed for all of Europe."