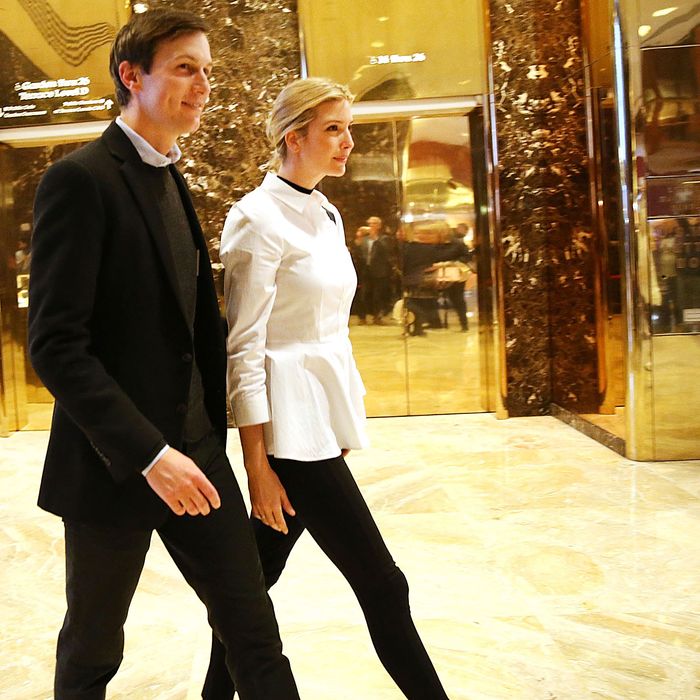 Power couple.
Photo: Spencer Platt/Getty Images
The Trump administration is the wealthiest in the history of the American republic — together, Bloomberg has estimated the cabinet's net worth at over $12 billion. This means, among other things, that its members have an unprecedentedly vast web of private financial interests that could ostensibly be impacted by their influence on public policy.
And, unlike the president, those cabinet officials are not immune to federal conflict-of-interest laws. So, while Donald Trump has opted to hide the details of his finances from the American people, his daughter and son-in-law — and every other plutocrat currently employed at 1600 Pennsylvania Avenue — aren't so lucky.
On Friday night, the Trump administration released to the public the financial disclosure forms of 180 White House staffers. Here are three of the more interesting things that they reveal:
Jared Kushner and Ivanka Trump will continue to benefit from their real-estate and investment businesses while in the White House.
Taking a job as his father-in-law's senior adviser forced Kushner to resign from more than 260 entities and sell off 58 assets that posed conflicts-of-interest too conspicuous for his lawyers' comfort. However, those attorneys, in consultation with the Office of Government Ethics, determined that most of his real-estate assets posed conflicts that were "pretty narrow and very manageable," the Associated Press reports.
After initial plans to work in the White House in an unofficial capacity, Ivanka Trump decided to become an official government employee this week. She will be allowed to do so while retaining her stake in the Trump International Hotel in Washington, D.C. — a business that her family leases from the Government Accountability Office, whose director her father gets to appoint.
She will also continue to receive income from the Trump Organization and from her fashion brand-licensing business. The documents released Friday suggest that her brand — which her father, the president, berated a private company for refusing to sell last month — is valued at more than $50 million.
Together, the couple's real-estate and business investments are still worth as much as $714 million, as they begin their lives in public service.
Steve Bannon was paid an awful lot of money by the Mercer family last year.
Trump's chief White House strategist earned between $1.3 and $2.3 million last year, according to his disclosure report. Of that, $191,000 came in consulting fees from the Breitbart News Network; $125,333 from Cambridge Analytica, a data firm that worked on the Trump campaign; and $61,539 from the Government Accountability Institute, a right-wing nonprofit. All of those entities are funded by billionaire hedge-fund manager Robert Mercer and his daughter Rebekah.
Bannon also received $167,000 from Glittering Steel, a production company he co-founded with the Mercers.
Here's why these payments are significant: Bannon took no salary for his work as Trump's campaign manager, even as the Mercers poured considerable funds into the campaign. Watchdog groups have suspected that the Mercers paid Bannon for his work through other entities, so that the campaign wouldn't have to carry the cost — a maneuver that would put them in violation of campaign-finance laws.
To take his White House gig, Bannon agreed to sell his stakes in Cambridge Analytica and Glittering Steel, the value of which is estimated at between $1 and $5 million.
Julia Hahn is very rich for a journalist.
Before joining the White House as an aide to Bannon, Julia Hahn was a mysterious, flame-throwing, right-wing blogger for Breitbart, where she earned $117,217 in 2016. She also cleared $74,082 for her contributions to Laura Ingraham's radio show (note to self: maybe time to give Ayn Rand another chance).
Beyond her income, Hahn owns a PNC custodial account valued at between $500,000 and $1 million.