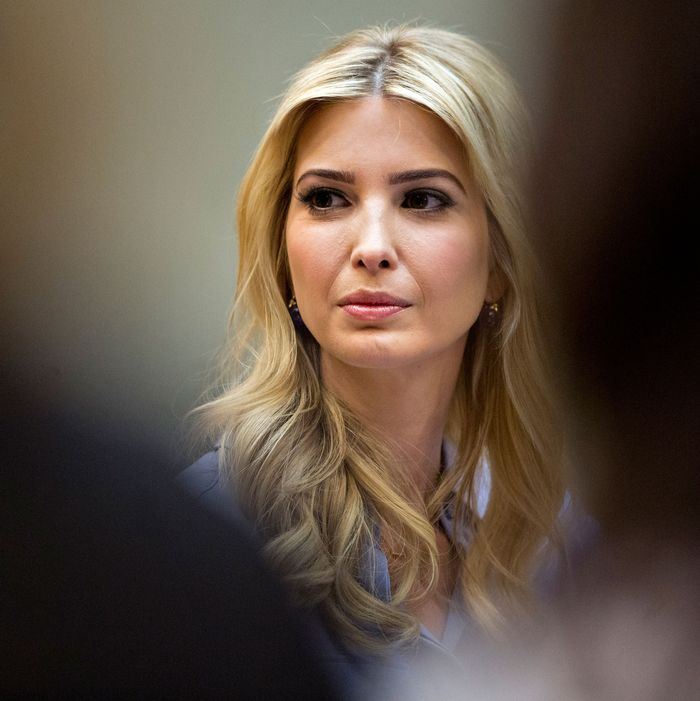 Ivanka Trump changed her mind.
Photo: Pool/Getty Images
After months of insisting she "[did not] intend to be part of the government" and would not assist her father "in a formal administrative capacity," Ivanka Trump has changed course and will become a federal employee, the New York Times reports. Her official title will be "special assistant to the president," which will pair nicely with her West Wing office. She won't earn a salary.
"I have heard the concerns some have with my advising the president in my personal capacity while voluntarily complying with all ethics rules," she said in a statement on Wednesday. "I will instead serve as an unpaid employee in the White House Office, subject to all of the same rules as other federal employees." She added that she'd made the decision after "working closely and in good faith with the White House Counsel and my personal counsel to address the unprecedented nature of my role."
Ivanka's change of heart comes after experts questioned whether she'd be subject to the same transparency and record-keeping laws as other government employees. Although she'd promised to voluntarily abide by the same rules, at least one ethics lawyer said her presence in the West Wing and request for security clearance set a "dangerous precedent."
On Wednesday morning, Democratic senators Elizabeth Warren and Tom Carper sent a letter to the Office of Government Ethics saying Ivanka's "increasing, albeit unspecified, White House role [has] resulted in substantial confusion," and requesting that the OGE outline what rules the First Daughter would have to comply with, and how it would enforce them.
But Ivanka's lawyer, Jamie Gorelick, confirmed that Warren's and Carper's concerns are now moot. "She will file the financial disclosure forms required of federal employees and be bound by the same ethics rules that she had planned to comply with voluntarily," Gorelick said.
Meanwhile, a spokesperson for Ivanka's dad said the move "affords her increased opportunities to lead initiatives driving real policy benefits that would not have been available to her previously." In other words, her strategic Broadway outings and trips to Germany are just the beginning.