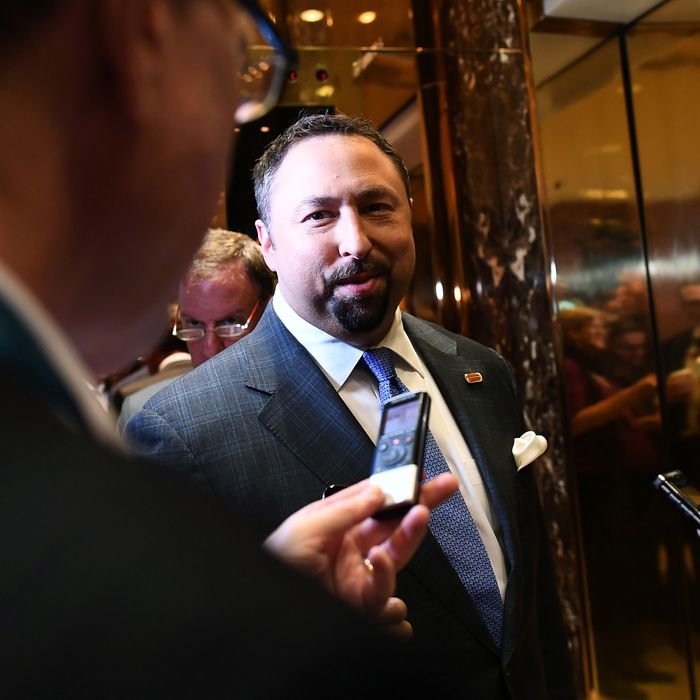 CNN's newest Trump supporter.
Photo: Jewel Samad/AFP/Getty Images
Jason Miller, the former Trump campaign communications director who backed out of a potential White House job amid affair allegations, has joined CNN as a paid contributor.
Though Miller began the 2016 election cycle on Ted Cruz's team, he joined Trump last summer after deleting a slew of tweets that included the hashtag #SleazyDonald. In the general election, Miller became one of the most visible faces in the Trump campaign and he no doubt pleased his boss by calling CNN "dishonest" while appearing on CNN. But Miller had his bad moments, including a dressing down by Megyn Kelly over Trump insulting the appearance of women who accused him of sexual assault. Then there was the time he insisted that online polls are more reliable than scientific ones.
Still, Miller did well enough that he was offered a job as White House communications director. In late December, he accepted and then walked away as rumors swirled about an affair with another member of the Trump team. In January, Miller joined Teneo, a consulting firm founded by longtime Clinton insider Doug Band. Now, he joins CNN's stable of Trump-supporting talking heads, which includes Kayleigh McEnany and Jeffrey Lord. Maybe the president will finally start watching again.