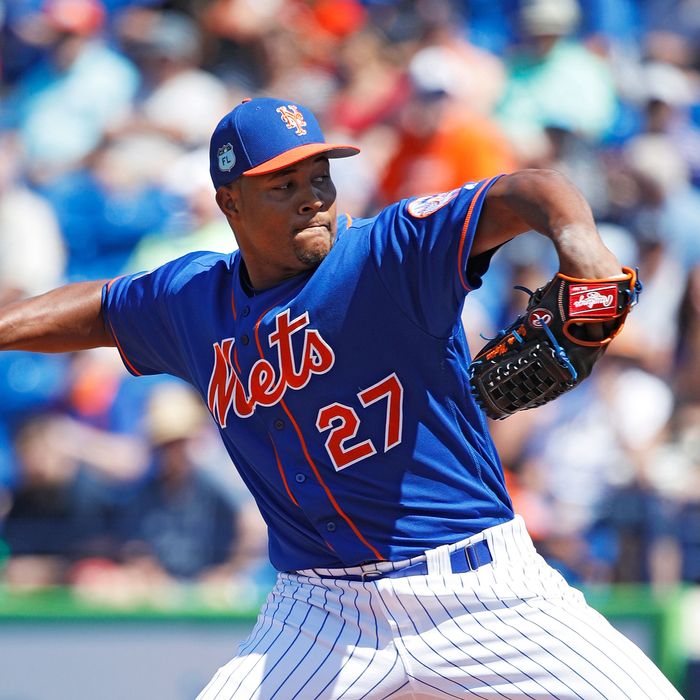 Familia pitching in spring training.
Photo: Joe Robbins/Getty Images
Major League Baseball suspended Mets closer Jeurys Familia for 15 games on Wednesday for a violation of its domestic-violence policy.
Last October, Familia was arrested in Fort Lee, New Jersey, after allegedly causing a scratch and bruise to his wife, Bianca Rivas. A police report said that officers on the scene found "probable cause to believe that domestic violence had occurred."
But as is often the case with domestic violence, Rivas later told prosecutors she did not want to pursue changes. She blamed the scratch on her toddler and the bruise on herself. A judge dropped the charges against Familia in December.
MLB continued to investigate on its own and found no evidence that Familia assaulted his wife. Still, he was suspended because his "conduct that night was inappropriate."
Familia, who has undergone 12 counseling sessions and agreed to volunteer and donate money to anti-domestic-violence groups, agreed with Manfred's assessment in his own statement. "I never physically touched, harmed or threatened my wife that evening," Familia said. "I did, however, act in an unacceptable manner and am terribly disappointed in myself. I am alone to blame for the problems of that evening."
Familia is the fourth player to be suspended under baseball's domestic-violence policy, adopted in the summer of 2015, and one of three who is still in the league. The other two also play in New York. Yankees closer Aroldis Chapman was suspended for 30 games last season for allegedly choking his wife and firing a gun in his Miami garage. And Familia's fellow Met José Reyes was suspended for 52 games last season after grabbing his wife by the throat and throwing her into a glass door.