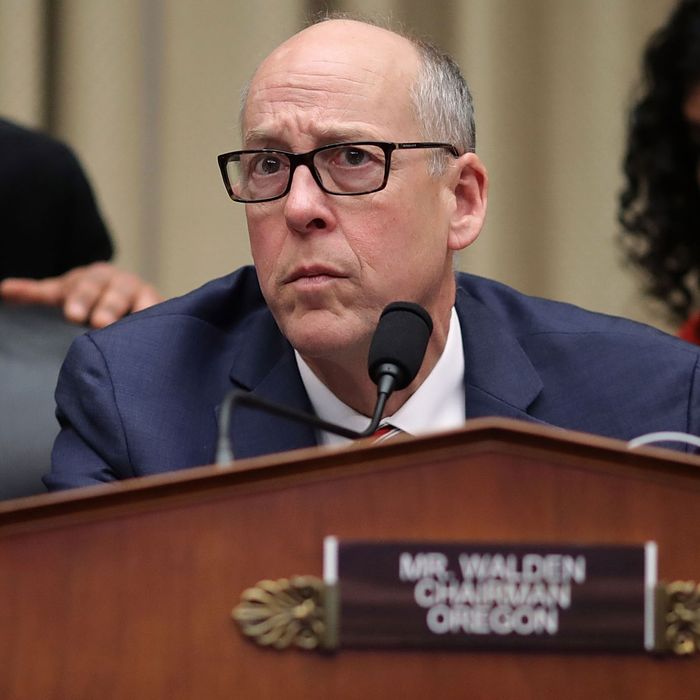 Greg Walden.
Photo: Chip Somodevilla/Getty Images
Since his plan to finance a tax cut for the rich by throwing millions off Medicaid died without a vote, President Trump has repeatedly assured the American people that their health-care system will collapse under his watch.
It's unclear whether this sentiment was intended as a prediction of an event Trump (wrongly) believes to be inevitable — or as a promise to bring Obamacare down by any means necessary, including administrative sabotage.
If Trump's intention was the latter, he could very well execute his vow — thanks to a lawsuit brought by House Republicans in 2014. Back then, the House GOP sued the Obama White House over payments that the federal government was making to insurers, in order to compensate them for the cost of providing discounted deductibles to low-income Obamacare enrollees. Without these "cost-sharing reductions," fewer insurers would participate in the Affordable Care Act and its markets might collapse.
House Republicans argued that the payments were being made unconstitutionally, without a congressional appropriation. Last May, a federal judge agreed — but she put her decision on hold while the Obama administration appealed.
Now, the Trump White House could withdraw that appeal, and instantly sow instability in the Obamacare marketplaces.
But this week, two key House Republicans called for taking that option off the table, by providing the appropriation that would make the constitutional question moot.
"[That is] a $7 billion appropriation we have to figure out how to fund or the plans likely could get canceled," House Energy and Commerce Committee Chairman Greg Walden told the Hill Tuesday, referring to funding for cost-sharing reductions.
Oklahoma Republican Tom Cole, who chairs the Appropriations health subcommittee, also expressed interest in shoring up Obamacare through such an appropriation, saying, "You're going to have instability in the market otherwise."
It's unclear whether Paul Ryan — let alone the House's tea party hardliners — would support such a measure. The House speaker has predicted, incessantly, Obamacare's imminent demise.
Still, it's nice to know that there are at least some Republicans on Capitol Hill who care more about serving the interests of their constituents than sabotaging the first black president's signature achievement.