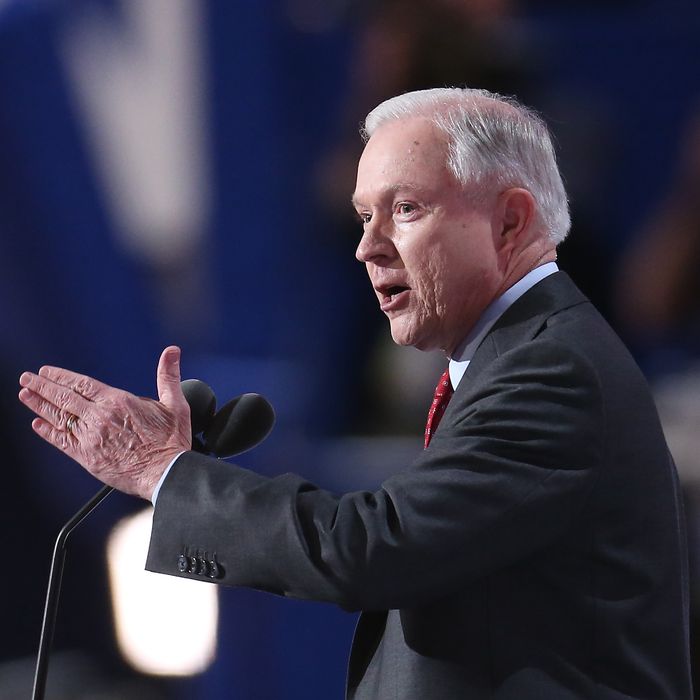 Jeff Sessions speaks as a senator and/or Trump surrogate at the Republican National Convention.
Photo: Daniel Acker/Bloomberg via Getty Images
The thrust of Attorney General Jeff Sessions's explanation of why he told the Senate he didn't have communications with the Russians despite meeting Russian ambassador Sergey Kislyak twice in 2016 is that he was referring to his role as a Trump campaign surrogate, not a U.S. senator.
White House Press Secretary Sean Spicer echoed this point at Thursday's briefing, saying, "He was literally conducting himself as a United States senator … this is what senators do in the course of conducting themselves in their job."
Spicer was responding to the question "Where does one role begin and the other one stop?" He didn't really answer, and a report from The Wall Street Journal on Thursday night highlighted the difficulty of trying to separate the two roles.
Sessions's first meeting with Kislyak was an informal discussion at a Heritage Foundation event on the sidelines of the Republican National Convention in July. The Journal reports that Sessions paid for the trip out of his own campaign funds, rather than money that would cover his travel as a member of the Senate Armed Services Committee.
Sessions, who was chairman of Trump's National Security Advisory Committee at the time, also made comments related to the Trump campaign during the event. One attendee said Sessions remarks were about Trump's trade policy, and he was left with the impression that the senator was at the event in his capacity as a campaign surrogate. Sarah Isgur Flores, Sessions's spokeswoman, said aides don't recall Sessions mentioning the election when he talked with Kislyak, but they couldn't be sure because the room was loud.
In an interview with Fox News on Thursday night, Sessions said he doesn't
"recall any discussion of the campaign in any significant way" during his meetings with Kislyak. When Tucker Carlson referred to a phone call with Kislyak, Sessions said he couldn't remember whether they had a phone conversation. The attorney general's office called in to say he hadn't.
Sessions is not the only Trump associate who's confused about the campaign's contacts with Russian officials. President Trump and several top figures in his administration — including Vice-President Mike Pence, Reince Preibus, Kellyanne Conway, Hope Hicks, and Spicer — have repeatedly denied that members of the campaign talked with Russians during the election.
But USA Today reported on Thursday that J.D. Gordon and Carter Page, two members of the Trump campaign's national security team, spoke with Kislyak at the same diplomacy conference during the Republican National Convention in Cleveland. "I'd consider it an informal conversation just like my interactions with dozens of other ambassadors and senior diplomats in Cleveland," Gordon said.
Page was less forthcoming. Last month he told PBS NewsHour that he had "no meetings" with any Russian officials in 2016. But he told USA Today he had an "informal conversation" with Kislyak during the RNC. Page left the Trump campaign in September, saying accusations about his meetings with Russian figures during a trip to Moscow in July had become a "distraction."
Asked to clarify whether he'd met with Kislyak Thursday night on MSNBC, Page said, "I'm not going to deny that I talked with him."
The White House also disclosed on Thursday that Kislyak had a December meeting with former National Security Adviser Michael Flynn and Trump's son-in-law and adviser Jared Kushner in Trump Tower. The meeting itself is not improper, but when initially asked about Flynn's contacts with the ambassador in January, the White House said they only exchanged phone calls and text messages in late December.