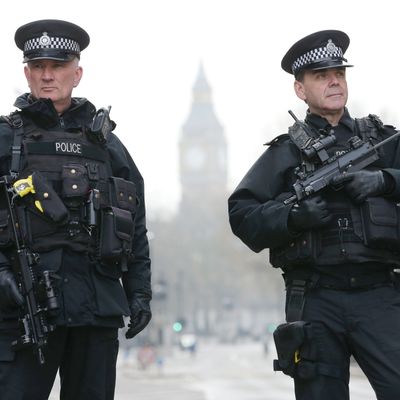 Armed police officers secure the area near the Houses of Parliament in central London on March 23, 2017.
Photo: DANIEL LEAL-OLIVAS/AFP/Getty Images
The Islamic State says a "soldier of the caliphate" who responded "to calls for targeting citizens of the coalition" is behind the London terror attack Wednesday, which killed three people, including a police officer, and left as many as 40 hurt. The attacker, now identified as 52-year-old Khalid Masood, mowed down pedestrians on Westminster Bridge, before crashing the car and leaping out with knives. He fatally stabbed a police officer on guard outside of Parliament as he tried to enter, but was fatally shot by police.
ISIS's announcement, which came from its media arm, Amaq News Agency, seems to echo British intelligence officials who, so far, believe the Masood acted alone, inspired by radical ideology. British prime minister Theresa May has confirmed earlier that the suspect was British-born and had been investigated by MI5, the United Kingdom's domestic security service. "The man was British-born and some years ago was once investigated by MI5 in relation to concerns of violent extremism," May told the reconvened Parliament Thursday. "He was a peripheral figure. His case was historic. He was not part of the current intelligence picture."
According to reports, Masood was born in Kent and had been living in the West Midlands area. Masood was not currently under surveillance for terrorist ties or sympathies, and he had never been convicted for any such activities. But he did have a long history of run-ins with the law, dating back to the 1980s. He was charged with criminal possession of a knife back in December 2003.
As the New York Times' Rukmini Callimachi pointed out, Masood fits the profile of similar recent ISIS-inspired attackers, except for his age.
Officials are now trying to piece together the Masood's history, and determine if he did have any associates or accomplices. At least eight people have been arrested in overnight anti-terror raids in London and Birmingham. According to police, the suspect rented the SUV he used as a murder weapon from an Enterprise rental company in Birmingham, which is in the West Midlands region where Masood reportedly lived.
Details are also beginning to emerge about the victims of the bloody rampage. The police officer who was stabbed, 48-year-old Keith Palmer, was a 15-year veteran of London's Metropolitan Police force and a married father. Two victims died after getting hit by the suspect's SUV: One, 43-year-old Aysha Frade, was a teacher. The other victim, originally said to be a man in his 50s, has now been identified as an American tourist from Utah. Kurt Cochran was visiting London to celebrate his 25th wedding anniversary with his wife, who was seriously injured in the attack.
Three French children were also hurt, as were three police officers returning from a commendation ceremony.
This post has been updated throughout.