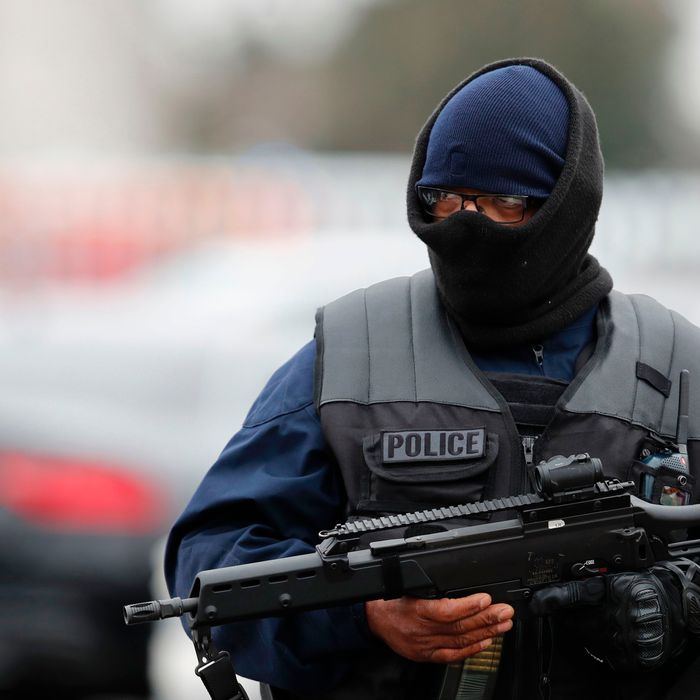 A police officer patrolling near Orly Airport in Paris on Saturday.
Photo: Christophe Simon/AFP/Getty Images
French security forces shot and killed a man who seized a soldier's gun at a Paris airport on Saturday morning. Thirty-nine-year-old Ziyed Ben Belgacem, who had been investigated for links to radical Islam, reportedly told the soldiers he attacked that, "I'm here to die for Allah. In any case people are going to die," before being killed, but it's not clear that terrorism was his real motivation. Ben Belgacem, a French native of Tunisian descent who was not considered a high terrorism risk by French authorities, had spent time in prison for armed robbery and dealing drugs, and an autopsy has confirmed that he had alcohol, cocaine, and cannabis in his blood when he died. The alcohol level was twice the legal limit in France. His father is now insisting that his son was not a terrorist, or even a practicing Muslim, and was just out of control under the influence of drugs and alcohol. Cocaine was also found at Ben Balgacem's apartment by police.

Earlier Saturday morning, the suspect, who had been out drinking the night before, shot and wounded a police officer with an air pistol after being stopped for speeding in a northern Paris suburb. Fleeing the scene, he contacted relatives to tell them that he "done something stupid." He then returned to the bar he had been drinking at the night before, where he fired more shots and stole someone's car. Ben Belgacem then traveled to Paris's Orly Airport, where he walked into the departures area of the south terminal and accosted a female soldier, holding his gun to her head and telling her fellow soldiers that he wanted to "die for Allah." He then grabbed the soldier's assault rifle after a scuffle, and was shot and killed.

Those soldiers were part of a military patrol stationed at the airport as part of the country's "Sentinelle" security program, which has deployed special-forces troops at various sensitive locations throughout France following the series of deadly terrorist attacks that have struck the country since 2015.
No one other than the suspect was injured in the attack at Orly, though some 3,000 passengers were subsequently evacuated from the airport while security personnel confirmed that there were no explosives in the terminal. Flights in and out of Orly were temporarily suspended as well.
French president François Hollande announced on Saturday that the investigation into the incident was being handled by antiterrorism prosecutors. Ben Belgacem's father, brother, and cousin all approached police by themselves on Saturday following the attack, and they were held, questioned, and ultimately all released.

Ben Belcagem had been investigated in 2015 over suspicions that he had become radicalized in prison, but he was not listed as posing a high risk by French authorities. A Paris prosecutor suggested to the AFP that Ben Belcagem may have just fallen into some kind of self-destructive downward spiral on Saturday. Terrorism has not been ruled out, however, and the investigation is ongoing.

The attack, which follows a similar incident in early February outside the Louvre Museum in Paris, comes in the middle of a fiercely contested presidential race between a centrist candidate, Emmanuel Macron, and a far-right-wing candidate, Marine Le Pen, who has made antiterrorism and anti-immigration the centerpieces of her campaign.
This post has been updated throughout to reflect new details in the story.