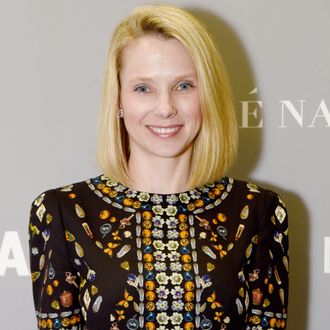 Yahoo CEO Marissa Mayer. Well, Yahoo CEO … for now.
Photo: Emma McIntyre/Getty Images
As Yahoo drags its carcass closer to a pending sale to Verizon (the sale should, theoretically, happen sometime in the second quarter), the company has announced exactly what its current and soon-to-be-former CEO Marissa Mayer will receive as a severance package: $23 million, according to a regulatory filing from Yahoo today. Once the Verizon deal is finalized, Mayer will step away from her role, though she'll reportedly remain on at the company for a short period while the dust settles.
Mayer's payout is a significantly lower number than the $54.9 million she was set to receive based on Yahoo's SEC filing during summer 2016. Based on today's filing, Mayer's golden parachute breaks down to about $20 million in equity and $3 million in cash, plus medical benefits. Yahoo's CFO Ken Goldman will also step down once the deal is final. He'll be receiving $9.5 million. Goldman will be replaced by Alexi Wellman, a VP and global controller at Yahoo since 2015, while Mayer's seat will be filled by Thomas J. McInerney, the former CFO of InterActiveCorp.
The announcement comes after months of bad news for Mayer and Yahoo. Hundreds of millions of accounts were hacked over the summer, not to mention the news that several hundred million more had been breached during 2014. The question now is if a new name — the company will be known as Altaba, not Yahoo, once the Verizon deal is done — and some newish blood will be enough to salvage Yahoo. Either way, as always, this is a good time to change your Yahoo password — if you still have an account at all. Here's how to do that.