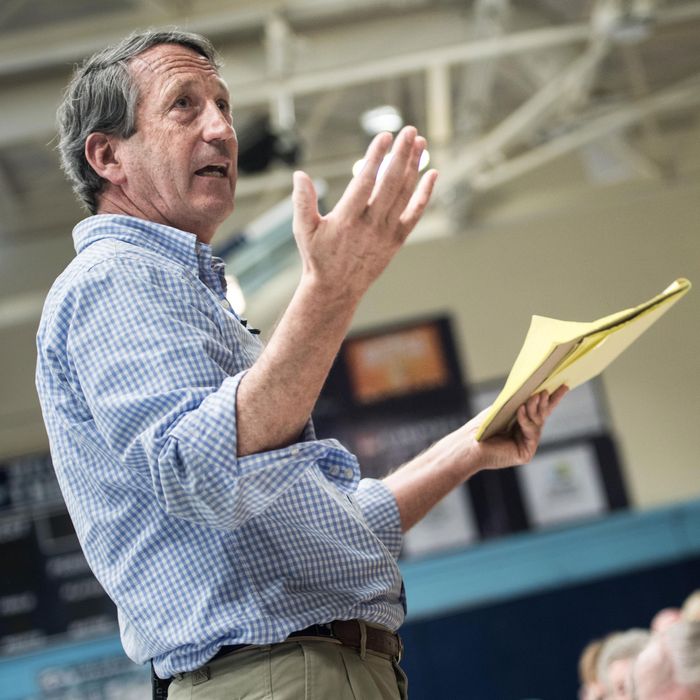 Sanford at a health-care town hall this month.
Photo: Sean Rayford/Getty Images
In the lead up to last week's scheduled House vote on Trumpcare, which was cancelled before it could fail, President Trump sent a message to Republican South Carolina Representative Mark Sanford: Vote "no" and you'll be primaried.
Sanford, best known for absconding to Argentina with his mistress while serving as South Carolina's governor, told Charleston's Post and Courier about the threat Thursday. He said it was relayed by former South Carolina congressman Mick Mulvaney, who's now the head of Trump's Office of Management and Budget.
"The president asked me to look you square in the eyes and to say that he hoped that you voted 'no' on this bill so he could run (a primary challenger) against you in 2018," Sanford said Mulvaney told him.
He added that Mulvaney made it clear he did not want to deliver the message but did so at Trump's insistence.
While Trump has been clear about his dissatisfaction with members of the House Freedom Caucus, of which Sanford is a member, the president hasn't threatened any other congresspeople with a primary challenge. Or if he has, they haven't told the media about it.
But if Sanford is the only GOP House member currently in Trump's crosshairs, that wouldn't be too big of a surprise. While he was far from the only Republican to break with the White House on Trumpcare, Sanford is one of only two GOP Representatives to sign a letter calling on Trump to release his tax returns.
And few, if any, members of Trump's own party have been as willing to criticize him since the inauguration as Sanford has. In a Washington Post op-ed published at the end of January, Sanford chided Trump for "embarrassing companies into business decisions." His advice: Stay off Twitter. Several weeks later, he told Politico that Trump has fanned "the flames of intolerance," too often stretched the truth, and, a month into his presidency, still appeared unprepared for the office.
Thursday, in response to Trump's threat, he took the high road. He told the Post and Courier he wants the president to succeed but he's "disheartened" by his threat.
"It's not exactly the kind of news that makes one's day," he added.