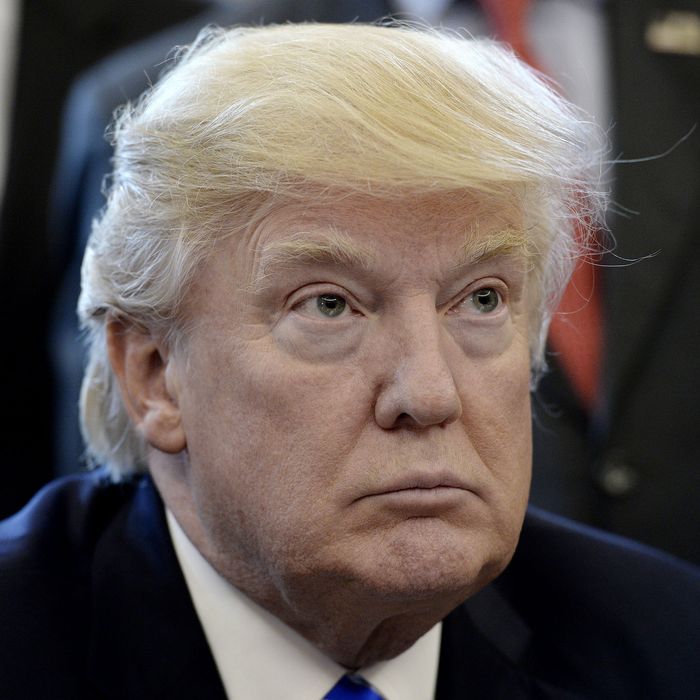 Losing bigly.
Photo: Handout/Getty Images
On Friday, President Trump's plan to finance a large supply-side tax cut by throwing millions off of Medicaid died without a vote. This came as relief to America's hospitals, retirees, low-income families, and children born with medical conditions.
But it sparked panic in the nation's C-suites. During the 2016 campaign, the stock market was "with her" — when Hillary Clinton's prospects improved, equities climbed. But when the sun rose on November 9, Wall Street remembered that what's bad for the American republic is often quite good for their portfolios. Specifically, traders realized that Trump was all but certain to deliver a large tax cut to corporations — and business-friendly business-friendly regulators to the Executive branch — and that these two measures would (almost) certainly boost near-term profits (no matter how many mothers the new president deports).
Traders aren't so certain, anymore. When the morning bell sounded Monday, the Dow Jones fell more than 100 points — putting it on pace for an eighth-straight losing session — and the S&P 500 pulled back by nearly a percentage point, sinking to its lowest level in six weeks. Meanwhile, the dollar is on the cusp of erasing its postelection gains, and anxious investors are reaching for gold like the newly dumped reach for Ben & Jerry's.
The ripples from Trump's failure were felt across the Atlantic, where the pan-European Stoxx 600 index fell 0.75 percent.
An anonymous bank executive offered Axios this summary of Wall Street's state of mind:
"Holy crap! We may be facing the same crap on a shutdown threat, and on the debt ceiling. Holy crap! We may not get tax reform, or a repatriation bill, or infrastructure spend, or substantial changes to regulations."
Without question, the Trumpcare debacle offered the titans of finance plenty of cause to question the GOP's capacity to govern. The House Freedom Caucus still doesn't seem to understand that there aren't 60 votes for Objectivism in the Senate, and, thus, could conceivably threaten a government shutdown to protest the tyranny of free school lunches, or some such thing. For years, the House GOP leadership has been able to keep the government open — and allow their tea party hard-liners to perform their purity — thanks to the cooperation of their Democratic colleagues. But now that Barack Obama isn't in the White House, it isn't clear that Democrats will feel compelled to rescue the Republicans from their own recalcitrance.
What's more, the GOP's failure to repeal Obamacare will make permanent corporate tax reform all but impossible: To avoid a Democratic filibuster in the Senate, Republicans must pass their tax plan in the form of a budget-reconciliation bill — a type of legislation that can pass with a simple majority in the upper chamber. But budget-reconciliation bills cannot increase the budget deficit outside of the ten-year period after they're passed. If Republicans had eliminated Obamacare's taxes via repeal, they would have lowered the baseline for what qualifies as "revenue neutral" by $1.2 trillion.
Still, even with that handicap, they would have had trouble delivering solid returns to the party's shareholders (a.k.a. billionaire donors and corporations) while retaining revenue neutrality. The House's plan to offset its rate cuts involves closing loopholes with powerful defenders, and raising taxes on imports — a move that several Republican senators have declared dead-on-arrival in the upper chamber.
Which is to say: It's far from clear that Trumpcare's failure dampened the prospects of the president lightening corporate America's tax burden. Before the health-care bill died at birth, Republicans already had little chance of realizing their most ambitious tax plans. The failure of Obamacare repeal could very well allow the GOP to forfeit their doomed aspirations of full-scale reform in shorter order — and settle on passing a good old-fashioned, unfunded, temporary tax cut that would likely buoy corporate profits in the short term.
There are already signs that many Republicans are ready to take this easy way out — including the House Freedom Caucus. Per the New York Times:
Under pressure to get something done, some Republican deficit hawks appear ready to abandon the fiscal rectitude that they embraced during the Obama administration to help salvage Mr. Trump's agenda.

In a rare shift, Representative Mark Meadows of North Carolina, whose House Freedom Caucus effectively torpedoed the health legislation, said Sunday on ABC's "This Week" that he would not protest if tax cuts were not offset by new spending cuts or new streams of revenue, such as an import tax.

"I think there's a lot of flexibility in terms of some of my contacts and conservatives in terms of not making it totally offset," he said. "Does it have to be fully offset? My personal response is no."
So, it's quite possible that Wall Street is overreacting to Trumpcare's collapse. But then, you could say the same about investors's months-long celebration of an incompetent demagogue's election.