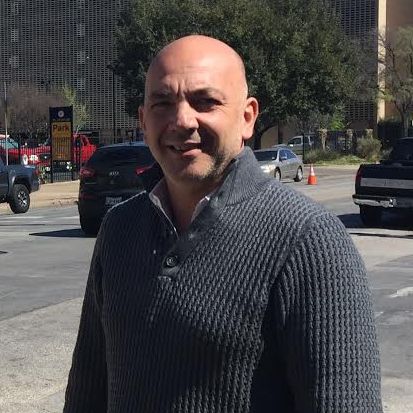 Mukemmel Sarimsakci.
Photo: Andrew Rice
Donald Trump is out of business, at least for the next four years. But the business of Trump, the commercial brand, is marching onward. In January, shortly before taking office, the president formally ceded his corporate holdings to a trust, and handed management responsibilities at the Trump Organization over to his sons, Donald Jr. and Eric. While the president promised that the company would do no "new foreign deals," to avoid potential ethical and constitutional entanglements, the younger Trumps are otherwise bound by few constraints as they seek to expand the family business. The head of the Trump Organization's hotel division recently disclosed that the company is planning an ambitious domestic expansion, and has signed letters of intent with developers in cities around the country, including New York, Austin, Cincinnati, and Nashville. Last month, the first of these local partners stepped forward, revealing plans for a hotel in Dallas.
"I think they are just moving full steam ahead," the developer, Mukemmel Sarimsakci, told me. Sarimsakci, a gregarious 50-year-old immigrant, likes to introduce himself as the "Turkish Trump" — a sobriquet he claims he was given by the press in his home country. He is enthusiastically hoping to play a role in the Trump sons' plans to launch a new mid-priced hotel chain, fittingly called Scion. In keeping with the patriarch's business model, the Trumps will license the name and play a role in management and promotion, but it will be up to developers like Sarimsakci to actually finance and build the hotels. He signed a preliminary letter of intent with the Trump Organization on December 6, a month after the election, and if all goes well, hopes to start construction in September.
"There is no reason why it shouldn't be," Sarimsakci told me when I recently visited him in Dallas. "After all, it's a business relationship, right?"
Of course, that question is never quite so simple when it comes to dealing with the Trump Organization. The president's name is still on the marquee, and that brings all kinds of unprecedented complications, as Sarimsakci has discovered. The day before I visited him, Sarimsakci was surprised to hear that a formerly friendly Democratic city councilman had vowed to oppose his Dallas project as a rebuke to Trump, telling Politico: "I think that guy is an invalid human and I wish nothing but failure for him." This wasn't the developer's first encounter with the Trump resistance. Sarimsakci's proposal to develop another Scion in St. Louis was scuttled by street protests in November. As a naturalized citizen and a secular Muslim, Sarimsakci found himself in a strange defensive position.
"Anyone is free to invest in the United States," he said. Sarimsakci, who goes by "Mike" here in his adopted country, went to graduate school at Stanford and still lives in the Bay Area with his family. Although he is involved in an unusually diverse array of business ventures around the world — office construction in Central Asia, renewable-energy projects in the nation of Georgia, a development for the government of Niger — he spends much of his time these days in Dallas. He is known there for the role he has played in the revival of the city's urban core, which was a dead zone until recently, as well as his Trumpian flair for promoting his big plans, only some of which have come to fruition. "Mike was an early mover downtown," said Mayor Michael Rawlings, a Democrat who supports his Scion plan. Sarimsakci thinks that Trump Organization's new hotel concept, which is meant to target millennial business travelers, is well-suited to the area, which he has tried to reposition as a "tech mecca."
Last week, I met Sarimsakci at his largest project to date, the conversion of the century-old Butler Building into another hotel and loft-like apartments. A compact, bald man whose face was flecked with gray stubble, he led me around the polished concrete floor of the basement common area, which was subdivided for various whimsical purposes: an art studio, a music performance space, a lounge filled with games. Walking out to the street, past the future location of a bespoke tailor and barbershop, Sarimsakci lit up a big Monte Cristo cigar and surveyed the nearly completed renovation. "Everyone thought we were nuts to purchase this property, because it's surrounded by homeless shelters," Sarimsakci said. "It was a huge risk, and a huge challenge to find financing."
Sarimsakci relies on funding from overseas for his projects — a common strategy in the realm of real-estate finance. More than half of the capital for the $90 million Butler Building project, for instance, came via the federal EB-5 program, which offers green cards to foreign investors. (The investment was marketed primarily in China.) For the Scion project, Sarimsakci says he has lined up a group of private investors, many of them "dear friends" he has known since childhood in Turkey, along with individuals from Kazakhstan and Qatar. "It's interesting, because all the local people thought it wasn't a good idea to do all these things," said Sarimsakci, as he walked me around downtown at lunch hour, pointing out new fashionable restaurants and residential construction sites.
"This was empty four years ago," he said. "You didn't see any of it."
Sarimsakci said he originally connected with the Trump Organization around two years ago, when he began working with the company on plans to develop Trump-branded hotels in Turkey, Georgia, and northern Iraq. "We wanted to do it, and then it turned out that he won the election, and Mr. Trump became the president," Sarimsakci said. As the Trump Organization pivoted, so did Sarimsakci's plans. "Domestic was always in play," he said. He initially floated the idea of putting a Scion into a historic building in downtown St. Louis that he is redeveloping. But after a November protest outside the building he dropped the idea, which would have been subject to city approvals.
"The emotions were very, very high, and we decided at that point it was not constructive to put that through," Sarimsakci said. "We said, we'll do a Marriott."
Sarimsakci moved on to developer-friendly Dallas. The site he is eyeing for the Scion is currently a parking lot across the street from the Butler Building and the Dallas City Hall, as well as a soup kitchen that currently attracts crowds of scruffy people to the block. Rawlings, who protested the president's original ban on travelers from seven Muslim countries, said he nonetheless welcomed the Trump Organization's participation in the redevelopment of the area. "I have to separate it from my politics, and what I think of the president," he said. "I'm thumbs-up on the project, and want to make sure that Dallas continues to receive the benefits of Mike being smart about this."
Last month, Sarimsakci unveiled architectural renderings of a six-story glass-walled Scion, inspiring an onslaught of national press attention — and some local opposition. But realistically, even critics of the project admit there is little they can do to stop the hotel, so long as it requires no subsidies and conforms to the zoning code. ("You can't discriminate in building permits," said Philip Kingston, the Democratic councilman who has been critical of the Scion project.) Nonetheless, the development is far from being a fait accompli. A letter of intent is a nonbinding agreement, and the Trump Organization has declined to comment publicly on the deal. But Sarimsakci did say that after the news broke, he received a congratulatory phone call from Donald Trump Jr. He has never met the president, though he says he has long been an admirer. "Mr. Trump has been my idol in the real-estate development business," Sarimsakci said. "I read all his books when I was a teenager and in college."
Before signing the letter of intent, Sarimsakci said, the Trump Organization reviewed and approved his architectural plans, which include a "big collaborative office space" on the ground floor. "They want it to be a start-up entrepreneur atmosphere," he said, which he says fits with the vibe he and other developers have been trying to create in downtown Dallas. "I think it's actually a good model for up-and-coming cities," he told me. "Our next stop after this will be St. Louis — which will happen." He says he has already picked out a new St. Louis site that won't face the same political hurdles as the first one. He envisions building more Scion hotels in cities like Detroit, Pittsburgh, and San Jose.
The next day, Sarimsakci told me, he would be flying off to Mexico City, where he was working on a bid to buy a major shopping mall in Panama City. (The former owner was being forced to divest because of U.S. money-laundering sanctions.) "It's the most prominent piece of property in Central America — it's amazing, an amazing piece of property," the Turkish Trump said, sounding very much like his namesake. He too has political ambitions: He says he'd one day like to be the first Turkish-American member of the U.S. Senate. (Although his planning process hasn't gone much further than that.) But even Sarimsakci's admiration for Trump has limits. "I didn't do a campaign contribution to Mr. Trump, nor to Ms. Hillary," he said. "I didn't vote because I liked certain things in both candidates and disliked certain things both candidates, so I was torn.
"I don't know Mr. Trump," he said. "I just like his business."